Puerto Vallarta, Jalisco, Mexico - Mamas in PV is a group of friends with two things in common: they are mothers, and they love Puerto Vallarta. Although from different parts of the world and Mexico, they all agree that Puerto Vallarta is the ideal place to live, make friends and raise their children.
In this spirit of friendship, they have organized a great party and friends' gathering with surprises and tons of fun for the entire family on Saturday, June 28th from 10 am to 1 pm at Sí Señor Beach Restaurant.
During the Sí Señor Breakfast on the Beach Bash, you will enjoy a great environment for all the family, along with a delicious breakfast at Sí Señor that includes: Freshly-Squeezed Juice and either Red Chilaquiles with Cream and Cheese or Scrambled Eggs with Hash Brown Potatoes for just $49 pesos when you buy your ticket from
Cupocity.com.
Sí Señor will also have food and drinks available for sale in special packages for Mamas in PV, so you can stay all day long if you wish! Wear beige manta clothing and show why Vallarta is the perfect place for growing families! Be sure to bring your swimsuit, floatables, a towel and your camera to Sí Señor Beach, where you and your kids will have the time of your lives!
Tickets to this special event must be purchased by Saturday, June 21st, so click HERE to purchase your coupon from Cupocity today, so you won't miss the Mamas in PV Brunch and Beach Bash at Sí Señor next Saturday, June 28, 2014.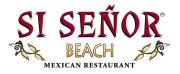 Open daily from 9:00 am to 11:00 pm, Si Señor Mexican Restaurant is located on Los Muertos Beach at Amapas 114, in front of the Hotel Emperador on the South side of Puerto Vallarta. For reservations, call (322) 222-0577, send an email to
SiSenorBeach(at)gmail.com,
or visit
SiSenorBeach.com
.
Click HERE to learn more about Si Señor Beach Restaurant.