Puerto Vallarta, Mexico - Anyone who loves Asian food will not want to miss this week's Summer Sizzle menu at Daiquiri Dick's. Though it's called "The Flavors of Australia," the dishes are inspired by Adam Liaw, whose family influences were Malaysian, Chinese, Singapore and Japanese - all of which dominate many parts of Australian cuisine.
"Throughout my life I have been surrounded by different cultures," the MasterChef Australia 2010 winner begins in his excellent, one-of-kind cookbook Two Asian Kitchens, which makes his recipes perfect for the Summer Sizzle promotion at Daiquiri Dick's restaurant in Puerto Vallarta, Mexico.
Summer Sizzle Menu: Flavors of Australia - Sabores de Australia
Served from 5:30-11:00 pm, July 16–21, 2014. Select one item from each category. A complimentary beverage is included in the $299 price. Not subject to any other discounts
Starter - Primero
• Steamed Asparagus with Fried Quail Eggs and Wasabi Aioli -
Esparragos al vapor con huevos de codorniz fritos y aioli de wasabi
• Laksa Lemak: Seafood Soup with Vermicelli Rice Noodles and Bean Sprouts - Sopa de mariscos con vermicelli y germen de soya
• Shrimp and Pork Dumplings with Sambal and Soy Sauce - Wonton fresco al sartén con camarones y cerdo con salsa soya y sambal
Entrée - Segundo
• Hainanese Chicken with Jazmin Rice, Cucumbers, Ginger and Onions - Pollo Hainanese con arroz jazmin, pepinos, jengibre y cebollas
• Prawn Sambal served with Rice - Camarones sambal con arroz
• Rum and Lemongrass Roast Pork Belly - Panceta de cerdo al horno con ron y té de limón
Dessert - Postre
• Fresh Fruit Cobbler a la Mode - Cobbler de frutas de temporada con helado
• Chocolate Pecan Tart - Tarta de nuez y chocolate
• Mint Granita with Watermelon and Cantaloupe - Granita de menta con perlas de melón y sandia
"These dishes all tell their own stories of rich tradition and culture. They are stories that are centuries old, but which have not yet ended. With each new dish we make we add our own experiences and tastes." - Adam Liaw
The Summer Sizzle menu is changed every week, and the special runs through the end of August. The weekly theme will be a country, like France or Spain, or a region, like the Mediterranean - or there could be a medley, making this summer a great time to take your taste buds on a world tour.
For an evening at home, cocktail hour on your balcony, or picnic lunches for a trip, ask about their line of take-out sandwiches, hors d'oeuvres, breads and pastries.
Daiquiri Dick's, an exceptional experience.
Open daily from 9 am to 11 pm, (Closed on Tuesdays from April to October and the month of September for Summer vacation,) Daiquiri Dick's offers elegant dining in a relaxed atmosphere for breakfast, lunch or dinner. Visa, MasterCard and Banamex accepted. Reservations are recommended and can be made online at ddpv.com.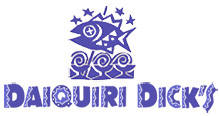 Daiquiri Dick's contemporary design exudes a quiet elegance that invites relaxation, and its tropical location at Olas Altas 314 on Los Muertos Beach offers the perfect atmosphere for enjoying spectacular views of Banderas Bay. For reservations call (322) 222-0566. For more information, visit DDPV.com.
Click HERE to read more about Daiquiri Dick's.