Puerto Vallarta, Mexico - In the mood for something a little spicy? Get yourself down to Daiquiri Dick's for some Ragin' Cajun Cuisine, as the Summer Sizzle Menu continues Louisiana-style! Through August 18th, enjoy a three-course meal that's pungent, peppery, and practically priced at just $299 pesos per person.
When Louisianans think of food, they think of flavor. Cajun or Creole Cuisine is a blend of fresh proteins, well rounded spices, vegetables, and herbs to be flavorful, not just spicy. So, next time you think of Cajun or Creole Cuisine, think flavorful dishes that make you crave more, think Daiquiri Dick's.
This Week's Summer Sizzle Menu: The Flavors of Cajun Louisiana
Served from 5:30-11:00 pm, August 13-18, 2014. Select one item from each category. A complimentary beverage is included in the $299 price. Not subject to any other discounts.
Appetizers
• Cajun Style Fried Octopus with Aioli
• Polenta Coated Fried Okra with Cajun Tomato Sauce
• Creole Stuffed Peppers with Ground Beef and Shrimp
Entrées
• Louisiana Style Jambalaya with Chicken, Ham, Sausage and Shrimp
• Gumbo with Shrimp, Fish Fillet, Ribs, Chicken and Ham, served with Rice
• Cajun Style Spaghetti con Chicken, Peppers, Tomatoes Cream and Cayenne
Desserts
• Bananas Foster
• Home made Beignets with Vanilla Ice Cream
• Black and White Cake
The Cajun and Creole cultures have evolved and melded into a place where good food and friends are a part of everyday life, which is why Daiquiri Dick's is the perfect place to enjoy some down-home Louisiana cooking in Puerto Vallarta, Mexico.
For an evening at home, cocktail hour on your balcony, or picnic lunches for a trip, ask about their line of take-out sandwiches, hors d'oeuvres, breads and pastries.
Daiquiri Dick's, an exceptional experience.
Open daily from 9 am to 11 pm, (Closed on Tuesdays from April to October and the month of September for Summer vacation,) Daiquiri Dick's offers elegant dining in a relaxed atmosphere for breakfast, lunch or dinner. Visa, MasterCard and Banamex accepted. Reservations are recommended and can be made online at ddpv.com.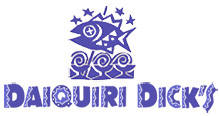 Daiquiri Dick's contemporary design exudes a quiet elegance that invites relaxation, and its tropical location at Olas Altas 314 on Los Muertos Beach offers the perfect atmosphere for enjoying spectacular views of Banderas Bay. For reservations call (322) 222-0566. For more information, visit DDPV.com.
Click HERE to read more about Daiquiri Dick's.