Puerto Vallarta, Mexico - All season Daiquiri Dick's restaurant has been celebrating with the Summer Sizzle menu. Each week a different country or region is featured and there are three courses for only $299 pesos and choices for each course along with a complimentary beverage. Dinner is served from 5-11 pm.
The best Asian flavors will be featured August 6-11. This menu reflects the large diversity of histories and ethnic cultures that make up the many unique types of Asian cuisine. The melding includes southwest style which includes dishes from India, Pakistan, Sri Lanka, and Burma. The northeast foods come from China, Korea, and Japan. The southeast style comprises Thailand, Laos, Cambodia, Viet Nam, Indonesia, Malaysia, Singapore, and Brunei. That is quite a combination, but the result is a pleasing array of tastes.
This Week's Summer Sizzle Menu: The Best Asian Flavors
Served from 5:30-11:00 pm, August 6-11, 2014. Select one item from each category. A complimentary beverage is included in the $299 price. Not subject to any other discounts
Appetizers
• Siu Mai with Pork and Shrimp, Gingered Soy Sauce
• Thai Spicy Calamari Salad with Shallots, Basil and Mint
• Coconut Soup with Lemongrass and Shrimp
Entrιes
• White Fish Fillet with Bacon, Oyster Sauce and Ginger served over Steamed Rice
• Thai Style Barbecued Chicken with Rice
• Drunken Pasta with Shrimp & Salsa "Negra" with Onions, Sweet Bell Peppers & Thai Basil
Desserts
• Coconut Flan
• Litchi Sorbet
• Fried Bananas in a Crispy Batter a la Mode
Traditional Asian cuisine is undergoing a transformation but instead of being combined with western tastes, the result comes from combining elements and styles from different Asian cultures into a new fusion style of Pan-Asian dishes. Many of these early fusion dishes were synthesized from Thai, Vietnamese, Indian, and Chinese cuisines (along with a few French influences), although other Asian cultures are slowly being 'mixed' into the trend.
There's only a few weeks left to enjoy breakfast, lunch and dinner at Daiquiri Dick's before they close for September vacation. The restaurant will reopen on October 1, 2014.
Enjoy a spectacular sunset and a wonderful meal right on Los Muertos Beach, the most popular spot on Banderas Bay.
Daiquiri Dick's, an exceptional experience.
Open daily from 9 am to 11 pm, (Closed on Tuesdays from April to October and the month of September for Summer vacation,) Daiquiri Dick's offers elegant dining in a relaxed atmosphere for breakfast, lunch or dinner. Visa, MasterCard and Banamex accepted. Reservations are recommended and can be made online at ddpv.com.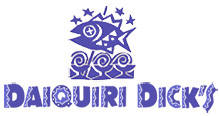 Daiquiri Dick's contemporary design exudes a quiet elegance that invites relaxation, and its tropical location at Olas Altas 314 on Los Muertos Beach offers the perfect atmosphere for enjoying spectacular views of Banderas Bay. For reservations call (322) 222-0566. For more information, visit DDPV.com.
Click HERE to read more about Daiquiri Dick's.