Puerto Vallarta, Mexico - There are still a few days left to enjoy flavors from around the world, as one of Vallarta's favorite beachfront restaurants, Daiquiri Dick's, wraps up their 2014 Summer Sizzle celebration with a selection of Old Favorites, New Tastes, and a couple of 'Verbal Surprises.'
Don't miss your last chance to enjoy three creative courses and a complimentary beverage for only $299 pesos, through September 1st.
This Week's Summer Sizzle Menu: Old Favorites and New Tastes
Served from 5:30-11:00 pm through September 1. Select one item from each category. A complimentary beverage is included in the $299 price. Not subject to any other discounts.
Appetizers
• Italian Tomato Soup "Pappa al Pomadoro" with Fennel and Garlic
• Morrocan Chicken Brochettes
• Siu Mai with Pork and Shrimp, Gingered Soy Sauce
Entrιes
• Spicy Spaghetti with Chicken, Shallots, Chile Flakes, Cherry Tomatoes and Lemon Zest
• Amberjack Fillet with Pumpkin Seed Sauce and Green Rice
• Pork Loin in Gochujang Marinade served with Steamed Rice and Coleslaw
Desserts
• Lichee Ice Cream
• Mango and Pear Cobbler
• Coconut Cake
Daiquiri Dick's is taking the month of September off for vacation, so don't miss your chance to enjoy a colorful sunset and an equally colorful dinner as Daiquiri Dick's wraps up this year's Summer Sizzle. The restaurant will reopen on October 1, 2014, so make plans now to visit Daiquiri Dick's for an exceptional dining experience.
Open daily from 9 am to 11 pm, (Closed on Tuesdays from April to October and the month of September for vacation,) Daiquiri Dick's offers elegant dining in a relaxed atmosphere for breakfast, lunch or dinner. Visa, MasterCard and Banamex accepted. Reservations are recommended and can be made online at ddpv.com.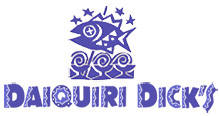 Daiquiri Dick's contemporary design exudes a quiet elegance that invites relaxation, and its tropical location at Olas Altas 314 on Los Muertos Beach offers the perfect atmosphere for enjoying spectacular views of Banderas Bay. For reservations call (322) 222-0566. For more information, visit DDPV.com.
Click HERE to read more about Daiquiri Dick's.