Puerto Vallarta, Mexico - I can already imagine what most people will think when they start to read this article - "why do I care about David Hoffman's journey to Puerto Vallarta?" To be honest - you probably shouldn't as a personal story (how's that for shooting a dagger in my story right off the bat?)
My mother might tell you that I've lived a fantastically interesting life... but that's a mom's job. My story is just one of many. The reason why I put pen to paper, however, is that I think that my story is much like a lot of people's story - and sharing mine might help give them (particularly those who are prone to over-analyze decisions, as I am,) thought toward their contemplated futures.
Ok - here's the background that's probably only really interesting to my family and friends (ok, probably not to most of them either...) I'm originally from the Midwest (Michigan and Indiana.) I graduated from a well-respected engineering school with a degree in Mathematics (I'm sure many of you are cringing, and yes, I am analytical to a fault.) I worked as a consultant for 15 years (Chicago, Los Angeles, San Francisco, and Manila, the Philippines primarily.) I served as VP, Operations in charge of the North American purchasing and distribution functions for a then-leading video game company. I later joined a toy and gaming company in Seattle as COO. I was elevated to President, where I wrote a turnaround plan, and led the company through a successful turnaround, leading to the sale of the company (not alone, of course, but thanks to the hard work of a great, dedicated team of management and staff.) Today, I'm a real estate agent in Puerto Vallarta, Mexico.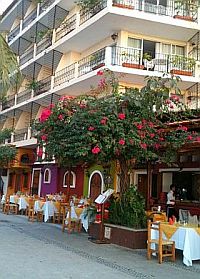 For those of you who made it through that last paragraph, you're probably thinking... "What? You're now a real estate agent?" Yes, I am... and:
• It was by design
• It was actually the result of two separate decisions
• It took a huge leap of faith (particularly for someone as overly analytical as I am)
• I'm very happy with my move
My time in the Philippines provided a base for my eventual desire to live abroad again.
Growing up in small towns in Michigan and Indiana, I had a strong desire to travel and to experience other cultures. I suspect that I have that in common with many of you who might read this. As a consultant in my early 20's with a renowned consulting firm, I was given the option to spend several months working in software development in the Philippines. I jumped at the chance - and what an experience that was!
I ended up living in Makati (the business district of Manila) for nearly 2 years. I learned a tremendous amount about living in a different world, and absolutely loved it. I loved the people, the culture, and the experience (which, oddly enough, included being trapped in the apartments of friends of mine in Makati for several days during a coup attempt and subsequent rebel takeover of the part of town where I was living... that makes for a fun story!) I also took advantage of my time there to travel in Asia.
My experience in the Philippines was really my base for wanting to eventually live abroad again one day. I think many of us are the same in that regard - we have an interest in other cultures, we get a taste of it through travel and/or assignments outside of the country, and it enhances our desire to embrace that experience once again. It's such a fulfilling experience!
My process for eventually living full time in Puerto Vallarta started with the purchase of a condo a few years ago. I did so while working in Seattle.
Ah, Seattle. First of all, Seattle is a wonderful town. It has great restaurants, very nice people, lovely gardens at every turn, fantastic coffee (and I am a caffeine addict!) and absolutely incredible summers. It also has a large number of cloudy months, which can be rather challenging for those who are not originally from there (I moved there from L.A. - it was an adjustment). Working in corporate America as a business executive reporting to a Board of Directors (and later, to the President of a division within a major film studio) is financially rewarding, and can, at times, be emotionally rewarding (particularly as it relates to the success of your fellow staff, management team, and business partners.) It can, however, also be incredibly stressful, and sometimes feel like you're on a hamster wheel. Pros and cons...
Dealing with the stress of the job and weather challenges that I experienced, I really needed something to look forward to. Puerto Vallarta was it!
I first travelled to Puerto Vallarta over 10 years ago with a good friend of mine. We made several return trips over the course of two years. I then traveled to Puerto Vallarta again some 6 years ago (after several years where I focused my vacations elsewhere) and re-confirmed my love for this town. This started the wheels in my mind to spin... what if I bought a place in Puerto Vallarta as a vacation home? It's really this point and decision process (I know - I'm FINALLY getting to it - sorry!) that I want to walk you through, as I think many of you will relate.
As I noted, I'm analytical to the core... but I'm clearly not alone - many of you are as well. Here were the key elements to my thought process:
• I love Puerto Vallarta - love the people, the culture, etc.
• I would love to spend more time here.
• If I bought a condo, I'd have to pay an HOA each month.
• If I had to pay an HOA and wasn't using it (I wasn't contemplating using it as a rental, although many do!), it would upset me.
• Knowing that this would upset me, I would force myself to use my Puerto Vallarta home more frequently.
• Having a home here, it would just be the cost of a hotel and taxis to travel here (not the cost of a hotel, not to mention any hotel occupancy issues.)
• Having a vacation home would give me something to look forward to.
• Spending more time in Puerto Vallarta would likely change my life - giving me a second home to look forward to visiting, and cutting my stress level.
• Having a vacation home that I regularly use could lead me more toward the "work to live" model, as opposed to "live to work."
Well, it worked as planned. I worked with a great agent (who is still a close friend) to find the perfect place for me. I bought a condo, and started to come down on more or less a monthly basis (3 or 4 day weekends aren't as big a challenge when it's just the cost of a flight and you're going home - your clothes, toiletries, and food items are already there!) For me, it was a wonderful decision... that then led to my later full-time move.
My eventual decision to move down here full time and change careers was a huge leap of faith, and one that I'm happy that I made. I thought about it long and hard, and eventually decided, "why not?" I love this town, and found that I really didn't want to leave. I wanted to do something that felt more fulfilling than my corporate job. I also really wanted to live outside the U.S. again on a permanent basis.
I work a lot of hours (being a work-a-holic doesn't actually go away for many of us,) but spend it helping people find homes and sell homes. I work with a professional, yet really fun crew - this includes not just the agents of our office, but also the agents of the other real estate firms here in town. My stress level is much lower, as my job feels more rewarding and I live in a wonderful place. I spend part of my evenings walking along the Malecσn (the boardwalk) after a day of looking at beautiful homes with amazing views. I enjoy the company of some great clients (ok, some are challenging, but most truly are really wonderful!), and am really quite happy to be living here!
Ok - probably a long and boring story, but it could have been worse (ask me to talk about supply chain process improvement initiatives, etc. - I could go on and on!) I hope that it's helpful to you if you're thinking about a move to our wonderful part of the world. For me, the purchase of a vacation home here was a life-changing experience. Perhaps for you, it will be as well!
David Hoffman is a Real Estate agent at Tropicasa Realty. If, like David, you decide it is time to make a permanent move to Puerto Vallarta, Mexico, you can contact him at (322) 888-0791 or davidh(at)tropicasa.com.
---

Since 1997, Wayne Franklin and his team at Tropicasa Realty have been a trusted name in Puerto Vallarta real estate. Tropicasa Realty is the region's representative for "The Leading Agents of the World" and with over 100 years of combined experience in real estate, all agents of the company are affiliated with AMPI. Wayne Franklin or any member of his knowledgeable team can be contacted in-person at their Romantic Zone Office - Pulpito 145-A at Olas Altas or in their San Marino Office - San Marino Hotel at Rodolfo Gomez 111-4. While in PV they can be reached at (322) 222-6505 or by calling 866-978-5539 (Toll-Free) from the U.S.
Click HERE to learn more about Tropicasa Realty
, or visit
tropicasa.com.