Puerto Vallarta, Mexico - New to Vallarta? Ready to create all sorts of adventures to make your stay extra memorable? Well, we've got you covered with Vallarta's favorite weekend attraction: the Old Town Farmers Market-Tianguis Cultural! You'll find all sorts of must-sees, must-haves and must-experiences - from live music and massage treatments to farm-fresh produce and natural body products.
Get to Know the Market Vendors
We are a bustling North American style market that celebrates the tradition and culture of Mexico's outdoor tianguis markets. All of our 80 national and international vendors are registered business owners who live full-time within 75 kilometers of Puerto Vallarta. Every season, over 100,000 shoppers jump at the chance to pick from their fine spread of "make it, bake it, grow it" products. This week, we're featuring the very talented, Carlos Rosas.
Meet Artisan Carlos Rosas
An architect who is known for his knack for structure and design, Rosas thrills onlookers with his glass creations. You'll be wowed as he shapes whimsical and welcoming heart pendants, palm trees and much-loved animals right there on the spot.
"We [Carlos and his brother/business partner, Toño] inherited this noble tradition from our grandfather, Enrique Rivas," says Rosas. He explains that they've followed in his footsteps by dedicating their business to the preservation of Mexico's artisan traditions. Rivas perfected this glass art over the course of 40 years, and like him, the Rosas brothers continue to use basic tools and a combination of oxygen, butane gas and melted glass rods to shape countless pieces for the market. The two Rosas brothers are extremely talented, creating perfect gifts for people all over the world.
As you continue shopping through the week, be sure to visit the Rosas brothers at their various locations:
• Basilio Badillo 156B, Zona Romantica, Puerto Vallarta
• Zona Internacional de Cruceros, Marina Vallarta
• Mercado Huanacaxtle, La Cruz (Sunday mornings only)
Join Us This Saturday!
Come on out this Saturday to visit the Rosas brothers. And don't forget to bring your appetite as we have a scrumptious menu of International fare. Take your pick from Thai, Indian and traditional Mexican favorites (tacos, empanadas, burritos and green pozole.) We even have vegan entrees, such as hamburgers, al pastor and falafels. Then satisfy your sweet tooth with cakes, cookies, sticky buns, chocolate-dipped bananas and much more!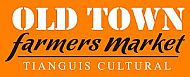 Located in Lazaro Cárdenas Park, kitty-corner to Daiquiri Dick's on Olas Atlas, the Old Town Farmers' Market-Tianguis Cultural - a registered non-profit/association civil organization - is open every Saturday from 9:30 am to 2 pm from November 1 to April 25. For only $10 pesos an hour, you can park in the garage directly beneath the plaza. Or you can take a taxi or public bus, which stops along Pino Suarez Street, just steps from the Market. For market updates, please visit OldTownFM.com, and "like" us on Facebook.

Click HERE to learn more about the Puerto Vallarta Old Town Farmers' Market.