Puerto Vallarta, Jalisco, Mexico - We are getting ready for Vallarta Pride 2015 and our theme this year is "Unity."
As Vallarta Pride's board we are glad to announce that we will be back in 2015 and our event will be full of surprises. Vallarta Pride will take place from May 17th-25th 2015.
As our theme will be "Unity," we have joined together as associations, companies and LGBT community to organize this event that celebrates the lifestyle diversity of our city in a 7-day festival. We will be offering arts and culture events, concerts, entertainment, films, fun, lots of partying, and our fabulous Pride Parade on May 23rd.
We believe that the only way to improve our world is if we are united as human beings. Not only as a LGBT community. That's why this year we want to invite the people interested in be part of Vallarta Pride to join in the different activities that we will be having. Our main events will be free to the public and non-profit to once again show the world the best of our accepting and vibrant community.
For more information about the Pride, visit
VallartaPride.com
or follow us on our Social Networks: @VallartaPride.
---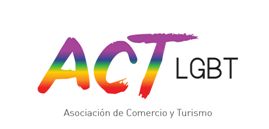 The Asociación de Comercios y Turismo (ACT LGBT) is a non-profit organization, representing the various interests of LGBT owned and managed businesses, LGBT friendly businesses, and professionals in Puerto Vallarta, who work together to promote economic growth and prosperity through public and private sector advocacy and to create strategies to strengthen the destination's positioning as a world-class LGBT friendly resort.