Puerto Vallarta, Mexico - Let's face it, we all have a little curiosity about the people that we admire. Whether it's for their beauty, brains, or talent, we're a little 'star struck' at times with those special people. And without a doubt, one of those people in Puerto Vallarta is song diva, Kim Kuzma. Okay, she has brains and beauty too, but we're going to talk about the talent.
We all realize that life is a journey sometimes filled with great opportunity, joy and fulfillment and at other times with enormous challenges and difficulties. Kim Kuzma's life is no different. She has had international fame as an award winning vocalist with sold-out audiences around the world. And yes, she's also had her moments of doubt, difficulty and challenge. It's the story of someone whose talent we admire and appreciate, and whose life is much like the rest of ours in it's unfolding chapters.
Kim Kuzma first landed on the entertainment scene in Puerto Vallarta in 2005 as a result of auditioning for Mark Rome (who now runs The Red Room Cabaret at Act II Entertainment Stages). She has returned every winter, to perform at various clubs and venues throughout this seaside town that offers culture, music and a laid back attitude. As a result of her many hours of promoting shows, singing for fundraisers and performing on various stages, Kim has become a well-known part of the music scene here.
After years at Club Maρana, Bite Me Beach Club, and 'you name it,' she has brought her singing and performing talents to The Red Room at ACT II Stages in Old Town for the past 2 seasons. Kim has been a big 'draw' for Act II, since it's opening last season. In fact, her 'Acustico' show had the #1 ticket sales through vallartatickets.com in Puerto Vallarta for the 2013-2014 season.
Perhaps the most notable change in what Kim offers her audiences came in 2011 when, upon the advice of fellow songstress, Joelle Rabu, she decided to work again with live musicians. Walking through the Farmers' Market on Basillo Badillo one day, she heard the incredible guitarist, Eduardo Leon along with Karen Falasz on flute and Enrique Jimenez on drums. The rest is history and their 'Unplugged' show has since turned into their popular 'Acustico' show.
Their original plan was to have 3 shows, which has turned into 4 seasons of entertainment. The band now includes Bob Tanson on flute, Roberto Falcon on bass, Enrique Jimenez on drums, and Fernando Hernandez and Eduardo Leon on guitar. "Adding Fernando has allowed the band to build on harmonies and gives Eduardo time to focus on his equisite Flamenco style of playing," Kim explains. She views these band members as her 'wonderful family of friends' that have been on an amazing journey together these past few years.
Kim credits the success of the show to the fact that each band member is a talent in their own right. She believes that they all have something to add to the mix. Not only do they rehearse a lot, the band is constantly learning new songs to keep things fresh. Along with their drive and desire to become better, they always make sure to enjoy what they're doing. Their success can be attributed to their combined talent and years of promotion in PV. Kim's passion for performing and giving people a relaxed show of humor mixed with music has led to a great evening of entertainment. Word of mouth, along with Tripadvisor, compliments on facebook, posters at stores (i.e. Cassandra Shaw Jewelry) and locals coming time and time again to the show has continued to fuel the show's popularity.
An 'Acustico' CD naturally followed as the show became more popular and fans wanted a musical 'keepsake.' Professionally recorded here in Puerto Vallarta at ProSantana Studios it is an excellent tribute to the wonderful music of the show.
So just how did Kim's musical journey get started? Growing up on the West Coast of Canada there was definitely lots of music appreciation in her family. She was encouraged to develop her talents and participated in choir and and singing competitions. She credits choir with helping her to learn the basics. She joined her first band at 16 and claims that she had very little mic technique and way too much hairspray! After hurting her voice in a rock and roll band, Kim returned from a year in Australia to seriously get back into music.
Kim then headed to Vancouver, where she recorded her critically acclaimed, debut CD Contradictions, which quickly climbed the charts for Independent Artists. The CD featured a combination of original and popular music. Kim was voted 'Canada's Best Independent Artist' by fans in 2001 and her CD held the Number 1 spot on HMV Vancouver Indie sales charts for over 7 and a half months. Music became full time for Kim once she started recording 'Contradictions.'
Since that time Kim has toured Europe, the United States, Canada and Mexico, bringing her music and special brand of humor and stage presence wherever she goes. Since her award winning CD, Contraditions, Kim has also released 7 other CDs (singles and albums.)
• It's Christmas (Without You), cd single (2001)
• Who You Are (2005)
• A Walk On the Clouds, cd single from the full length CD entitled Les Allumeurs de Reves by Samuel Sixto featuring Kim Kuzma (2006)
• Meant To Fly, Official Anthem of the 2007 Vancouver BG Triathlon World Cup (2007)
• Guardian Angels, cd maxi-single (2008)
• I Am Alive, ep (2010)
• By Request (2011)
• Acustico (2013)
For many years, Kim was constantly traveling and performing. In the last few years, she has divided her time between summers in the beautiful resort town of Ogunquit, Maine and 'her home away from home' Puerto Vallarta, Mexico. Kim has been a constant supporter of children's, animal, and LGBT charities and has donated much of her time and efforts to these causes.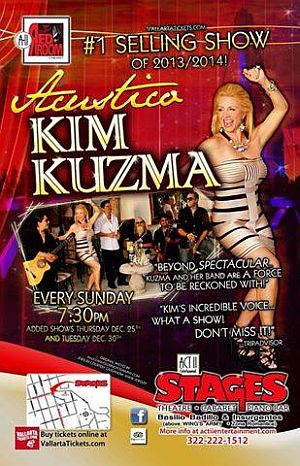 When asked what her fans would be surprised to know about her, she responded, "I'm actually more shy than some think. (Don't fall over laughing) I can be pretty shy, due to my lack of confidence as a child. We moved around a lot when I was young. I was always the 'new kid.' It's through music and figure skating that I gained confidence. It took me a while to have a healthy attitude toward what I did with music. For me to see someone emote, have tears fall during a song/ performance, that is the biggest compliment. And the smiles on their faces. We see EVERYTHING while onstage - don't forget that as an audience member! We see and feel it. We feed off your energy as well."
Kim also wants her fans to know that when she writes music she prefers to think of it as emoting through the words of others and then relating it to her own experience. It can be extremely personal and revealing when writing about breakups, heartache, etc... She feels that she's evolved from someone who wanted to be another Paula Cole/major singer/songwriter, to someone who simply wants to perform. It doesn't matter whether she wrote it or not, as long as it has meaning to her and potentially to the audience.
Every Sunday night at 7:30 pm, Kim and the band perform their 'Acustico' show at The Red Room Cabaret in Old Town. Every Wednesday at 9:30 pm, Kim performs her solo 'Disco' show there as well. She sings songs from Donna Summer, Cheryl Lynn, Maxine Nightingale and other popular disco divas. It's a real dance party!
Along with performing at Act II Entertainment Stages for their second season, Kim and the band are lined up to be performing 'Acustico' on Jan 8th and 29th at the new 'Stage and Forum Theatre' in Nuevo Vallarta, which is at the other Marina across from Paradise Village. Tickets can be purchased through vallartatickets.com. Kim and the band are also performing at Luna Lounge in Bucerias, Thursday Feb 26th, and they will be part of a concert series in Ajijic, along with Lorna Luft and Well Strung, in March.
Looking to the future, Kim hopes to expand the 'Acustico' show outside of Banderas Bay. She would like to do shows in Guadalajara, San Miguel de Allende and beyond. "It would be amazing to take it elsewhere and for us to see new cities as well. That would be exciting for us all! To share our love of music, which is so evident when watching us."
In a moment of soul searching, Kim admits, "To be very honest, creating this band and working together over the years, motivated me. It allowed me to truly love performing again. I worked with backing tracks (recorded music) for many years simply for financial reason when traveling, for certain shows. Feeling the energy of the band and knowing how close we all are as a unit/friends, all sharing our talent and love for the music - THAT motivates me immensely. I love music again! Plain and simple. I'm so very grateful to them. I'm also very grateful to Mark Rome for bringing me here 10 years ago. He's become a dear friend and I'll always be grateful for his support!"