Puerto Vallarta, Mexico - Ready to discover something new and flavorful this Saturday? Come on down to Vallarta's favorite attraction: the Old Town Farmers Market-Tianguis Cultural. We have 90+ producer-only vendors with all sorts of "make it, bake it, grow it" goodies and services to wow you and your loved ones.
One such gotta-try is Vallarta Bagel World with its freshly baked, yummy-for-the-whole-family bagels. Traditional, sesame, poppy seed and whole grain which is sprinkled with sunflower and flax seeds - they've got 'em all. Exotic flavors are also available, including the jalapeño and cheddar cheese.
Bagels: Great Flavor without the Guilt
We all know that whole grains and vegetables are the basis of a healthy diet, and bagels offer a wealth of vitamins and minerals to keep you in tip-top shape.
But if you're thinking, "A crunchy, just-toasted bagel sounds heavenly, but it can pack on those unwanted calories," then worry no more. Only 11 calories come from fat with an average plain bagel. Compare that to the 54 fat calories that come with an average croissant!
Plus, bagels are cholesterol and fat-free. None of the ingredients contain fats or any animal-derived products such as milk, eggs, butter, shortening or fat-based preservatives.
History of the Bagel
Bagels have been a food staple since the beginning of Egyptian civilization. Its round shape and hole-in-the-middle are not only distinct, but handy for transport.
The popular boiled bagel, which is the preferred bagel of today, was first made in the 17th century by the Eastern European Jewish community. With migrations to America, bagels became a hit in New York as traditional breakfast menu items. Its simple, yet scrumptious flavor, spread throughout the world, thanks to the frozen food revolution. Fresh or frozen, each bite is full of flavor, texture and healthy properties.
Tip-Top Bagel Toppings
There are endless ways to top a Vallarta Bagel World's freshly baked bagel. Sweet butter or cream cheese and smoked salmon are always popular choices. We'd also suggest trying additional options from fellow OTFM-TC vendors: nut butters, jellies, Mexican cheese, lentil sprouts, farm-fresh vegetables and sliced deli meats.
Stop by this Saturday to pick out your favorite Vallarta Bagel World bagel. On weekdays, visit their shop, which is located at Revolucion 353, Las Juntas, behind Home Depot. (+52 322-146-7180 or vallartabagelworld(at)gmail.com.)
Meet the Market
Ours is a festive "make it, bake it, grow it" North American style market that celebrates the tradition and culture of Mexico's outdoor tianguis markets. We are a registered non-profit/association civil organization that focuses on the "buy local" movement as well as entrepreneurial and community development.
Don't forget to visit our International Food Court (located under shaded pergolas on the eastern side of Lazaro Cárdenas Park). You'll find Thai, Indian, traditional Mexican favorites (tacos, empanadas, burritos and green pozole) and vegan dishes, such as hamburgers, al pastor & falafels.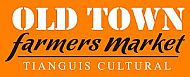 Join us this Saturday (9:30 am to 2 pm in Lazaro Cárdenas Park, Old Town) for live music, artisan products and International fare (including vegan options.) We're open every Saturday from November 1 to April 25. For only 10 pesos an hour, you can park in the garage directly beneath our Lazaro Cárdenas Park location. Public buses and taxis also come this way with a Pino Suarez Street drop off, just steps from the market. For events and updates, please visit
OldTownFM.com,
and "like" us
on Facebook.
Click HERE to learn more about the Puerto Vallarta Old Town Farmers' Market.