Puerto Vallarta, Mexico - Traditional Mexican textiles. Handmade musical instruments. Live music. Ready-to-eat artisan foods. We have it all waiting for you at our fun-filled, family-friendly, "make it, bake it, grow it" market. That's right, this Saturday you can scoop up farm-fresh produce, artisan décor, clothing and accessories at the Old Town Farmers Market-Tianguis Cultural.
While you're checking out all of the producer-only goodies, be sure to visit Chantel~Vintage Spoon Jewelry. It's a favorite market stop for those looking for gifts, souvenirs and custom work.
Meet Chantel Mann, owner of Chantel~Vintage Spoon Jewelry. She works out of her home studio, fabricating her own tools and up-cycling exceptional pieces made from silver and silver-plated cutlery. "I started my business six years ago after my dad gave me a spoon ring," says Mann. "All of my friends wanted one, so I learned how to make them. From there, I started to expand my line." And boy, what an impressive line of signature pieces: • Rings • Bracelets • Watches • Earrings • Necklaces • Bud vases • Key chains • Money clips
"Once you buy the first piece, you'll be hooked," says a long-time customer and Dallas resident, C.J. Bredesen. She purchased a hand-selected black pearl and followed it up with a spoon ring and three more bracelets for her sisters. The latest purchase was a sugar spoon necklace stamped with her initials. But Bredesen knows that Chantel~Vintage Spoon Jewelry pieces do not last long. "If you see it, buy it!" she tells would-be customers.
Mann also customizes her work. In fact, a large percentage of her current business comes from crafting personal heirloom silverware into beautifully fashioned sentimental pieces.
Rodrigo Ghaêl Montané of Mexico City is one such customer. "When my husband and I decided to get married, we knew our rings must be special and unique," he says. "The same afternoon Chantel came to our house...we knew it was a lovely sign. Chantel's jewelry has the ability to give unique pieces with a transcendent meaning."
And now you, too, can treat yourself to Chantel~Vintage Spoon Jewelry. Simply visit her at the market this Saturday, connect with her on Facebook, or call her at 322-182-2144.
You can also find Chantel~Vintage Spoon Jewelry at Mercado Huanacaxtle in La Cruz on Sundays and the Marina Vallarta market on Thursday nights. Chantel's pieces sold in the following boutiques:
• Artisans on Carranza (Old Town Vallarta)
• Mata Ortiz Gallery (in the Puerto Vallarta Airport)
• CM Boutique (Sayulita)
"I have lovely clients from all over the world," says Mann. "I have a lot of return business, or word-of-mouth business, and I absolutely love what I do. I'm so grateful that I have the opportunity to share my jewelry with the world through the Old Town Farmers Market!"
Get to Know the OTFM
Ours is a festive "make it, bake it, grow it" North American style market that celebrates the tradition and culture of Mexico's outdoor tianguis markets. We are a registered non-profit/association civil organization that focuses on the "buy local" movement as well as entrepreneurial and community development.
You're Invited!
Join us this Saturday from 9:30 am to 2:00 pm in Lazaro Cárdenas Park, Old Town. And be sure to save your appetite for the International Food Court (located under the shaded pergolas on the eastern side of Lazaro Cárdenas Park.) We're cooking up delicious fare: Thai, Indian, traditional Mexican favorites (tacos, empanadas, burritos and green pozole) and vegan dishes, such as hamburgers, al pastor and falafels.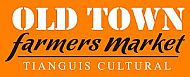 The Old Town Farmers' Market-Tianguis Cultural is open every Saturday from November 1 to April 25. For only 10 pesos an hour, you can park in the garage directly beneath our Lazaro Cárdenas Park location. Public buses and taxis also come this way with a Pino Suarez Street drop off, just steps from the market. For events and updates, please visit
OldTownFM.com,
and "like" us
on Facebook.
Click HERE to learn more about the Puerto Vallarta Old Town Farmers' Market.