Puerto Vallarta, Jalisco, Mexico - Every Saturday, international travelers come to Puerto Vallarta's favorite weekend attraction to scoop up their favorite "make it, bake it, grow it" goodies. From farm-to-table produce and just-picked berries to hand-blown glass and custom made beachwear and sandals, the Old Town Farmers' Market-Tianguis Cultural feature the best of Vallarta.
Some of the most delicious market must-have's are the meat and fruit pies of the Leek and Thistle Pie Company. Traditional pie and mash has long been popular throughout the British Isles with specialty shops scattered about since the 1800s. Today, the Leek and Thistle Pie owner, Mark Hughes, brings the tradition of these baked goods to your plate, right here in Puerto Vallarta.
Meet Mark Hughes
A native of Aberdeen, Scotland, Hughes was born to a Welsh father and a Scottish mother. His father was a hotel manager, and Mark grew up working in the restaurant and hotel industries. He studied catering and later became a general manager for a catering company. Together with his team, they served stadium-sized events such as the Silverstone Grand Prix, Fulham football in London and horse races at Ascot, Sandown, Epsom and Goodwood.
Old-World Baking Traditions Come to Vallarta
In 2005, Hughes came to Puerto Vallarta for a holiday. He fell in love with the destination and put his baking experience to work selling brownies and banana bread. It was a good gig, until one fateful night with a fellow Scotsman, a South African and a Brit changed his baking destiny. Hughes was going to treat Vallarta to the old-world tradition of meat and fruit pies.
That was seven years ago. Today, the Leek and Thistle has become a staple of Vallarta life. Its name pays tribute to his father with the national emblem of Wales (the leek), and to his mother with the national emblem of Scotland (the thistle).
So how do the pies taste? Divine.
Locals and tourists rave about the pastry-filled deliciousness of Hughes' meat pies. In fact, each one hints at the ingredients baked inside. For example, the Scotch is made with beef and onions. Mr. Porky features pork in apple cider. Paddy bursts with beef in Guinness, and Royalty is a hit with steak and kidney. Of course, there are more meat pies to be enjoyed, depending on what Hughes is baking that day.
The Leek and Thistle Company's fruit pies are the perfect choice for a snack or after-dinner treat. Each is made with a buttery pastry and features a variation of apple, peach and seasonal fruit crumbles.
Come on out to the market and try a Leek and Thistle pie for yourself. Then be sure to visit the Leek and Thistle shop (156 Hamburgo, Colonia Versalles). It's open Monday-Friday from 8:00 am to 6:00 pm. (322-224-6670)
Get to Know the Market
Ours is a festive "make it, bake it, grow it" North American style market that celebrates the tradition and culture of Mexico's outdoor tianguis markets. We are a registered non-profit/association civil organization that focuses on the "buy local" movement as well as entrepreneurial and community development.
You're Invited!
Join us this Saturday from 9:30 am to 2 pm in Lazaro Cárdenas Park, Old Town. Enjoy handmade cards, woven textiles, ready-to-eat artisan foods, handmade musical instruments, specialty décor and fashion accessories. Non-profit organizations, live music and on-site massage and chiropractic services add to the fun-filled, family-friendly atmosphere.
Then visit our International Food Court (located under shaded pergolas on the eastern side of Lazaro Cárdenas Park) for delicious fare: Thai, Indian, traditional Mexican favorites (including tacos, empanadas, burritos and green pozole), and vegan dishes, such as hamburgers, al pastor and falafels.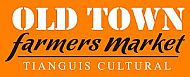 The Old Town Farmers' Market-Tianguis Cultural is open every Saturday from November 1 to April 25. For only 10 pesos an hour, you can park in the garage directly beneath our Lazaro Cárdenas Park location. Public buses and taxis also come this way with a Pino Suarez Street drop off, just steps from the market. For events and updates, please visit
OldTownFM.com,
and "like" us
on Facebook.
Click HERE to learn more about the Puerto Vallarta Old Town Farmers' Market.