Puerto Vallarta, Mexico - If the very mention of chocolate makes you salivate, then your taste buds will be divinely satiated with Xocodiva's Artisan Chocolates. Since 2007, Xocodiva (sho-CO-dee-vah) has delighted locals and visitors with the subtle aromas and incomparable decadence of their chocolates, famous chocolate dipped bananas and most recently their artisan ice cream.
Xocodiva honors Mexico as the birthplace of chocolate by blending Mesoamerican mythology and tradition with European artistry. Xocodiva -
xoco
from the Mayan word
xocolatl
and
diva
for "god" in Latin - delivers the deliciousness of cacao, commonly hailed as the Mayan's "Food of the Gods."
Xocodiva's chocolatiers, Charlotte Semple and Carole Fast, devote special attention to the artistry, ingredients, and flavor of their divine delicacies. Their unique blend of European couverture with fresh local ingredients excite the senses and caress the palate.
From luxurious truffles to creamy caramels, every Xocodiva artisan chocolate is carefully handcrafted in small batches right here in Old Town Vallarta. Tempting flavors range from the traditional classic dark truffle, passion fruit, espresso, maple walnut, lemon, tequila and champagne to the ever-so-popular chili.
An elegantly wrapped box of Xocodiva Artisan Chocolates is ideal for those who want to share something extraordinary. Whether you're searching for the perfect hostess gift, celebrating a special occasion, or bringing the "Food of the Gods" to a loved one, the gift of Xocodiva chocolate will reflect your style and complement your sentiments.
Their variety of chocolates and confections make a great gift for those back home. Choose from a wide selection of hand wrapped bars, almond barks, chocolate covered coffee beans, butter pecan toffee, or pure cacao beans, direct from Tapachula, Mexico.
While shopping in town or for those planning to travel, ice packs are available to ensure that your chocolates arrive home in perfect condition, every time.
Visit the "Xocodivas" at the Old Town Farmers' Market-Tianguis Cultural on Saturdays or weekly at their Zona Romantica shop (Basilio Badillo #168B) from 10 am to 10 pm. For more information, call (322) 113-0352, visit Xocodiva online, or join their Facebook community.
Don't forget to pop in next door, where Lix by Xocodiva is serving up delicious artisan ice cream by the scoop, banana split or sundae. Go for the ever-popular cherries & chocolate, rocky road, salt caramel & candied pecan, triple berry or double chocolate chip. Lix is open daily (noon to 11 pm) at 168C Basilio Badillo.
Meet the Market
Besides tasty artisan chocolates, the Old Town Farmers' Market-Tianguis Cultural features all sorts of "make it, bake it, grow it" goods and services. From traditional Mexican artisan products to ready-to-eat artisan foods, and from non-profit organizations to on-site massage and chiropractic services, we have everything to keep you and your loved ones smiling. (And toes tappin' with live music!)
Ours is a festive "make it, bake it, grow it" North American style market that celebrates the tradition and culture of Mexico's outdoor tianguis markets. It is now a registered non-profit/association civil organization that focuses on the "buy local" movement as well as entrepreneurial and community development.
You're Invited!
Come on out and join us this Saturday (9:30 am - 2 pm in Lazaro Cárdenas Park, Old Town) for artisan products, live music and unforgettable moments in sunny Vallarta. And don't forget to save your appetite for our the fine fare of our International Food Court, located under shaded pergolas on the eastern side of Lazaro Cárdenas Park. Select from a wide spread of Thai, Indian, traditional Mexican favorites (tacos, empanadas, burritos and green pozole) and vegan dishes, such as hamburgers, al pastor and falafels.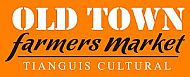 Join us this Saturday (9:30 am to 2 pm in Lazaro Cárdenas Park, Old Town) for live music, artisan products and International fare (including vegan options.) The Old Town Farmers' Market-Tianguis Cultural is open every Saturday from November 1 to April 25. For only 10 pesos an hour, you can park in the garage directly beneath our Lazaro Cárdenas Park location. Public buses and taxis also come this way with a Pino Suarez Street drop off, just steps from the market. For events and updates, please visit
OldTownFM.com,
and "like" us
on Facebook.
Click HERE to learn more about the Puerto Vallarta Old Town Farmers' Market.