Mexico City - Mexico's government cut its 2015 budget by nearly 3 percent on Friday after a drop in global oil prices hurt public finances, and it is shelving a tainted $3.75 billion high-speed train tender as part of its austerity measures.
Finance Minister Luis Videgaray said the cuts were intended to reassure global investors that Mexico will keep its finances in order and he promised they would not derail an economic recovery this year.
Latin America's No. 2 economy, a major crude exporter, has posted weak growth in recent years and the drop in oil prices has dampened confidence in the impact of a landmark opening of the state-run energy sector this year to private companies.
The slump has also battered Mexico's peso currency, which blew past the 15-per dollar level on Friday for the first time since 2009 before it recovered slightly.
Mexico's central bank warned on Thursday the peso could see steeper losses and its governor, Agustin Carstens, advised the government to act to prevent a further run on the currency. On Friday, the central bank said that given the sharp decline in oil prices, and the likelihood they would stay low for a while, the depreciation of the peso was probably not transitory.
"We have to take decisions because our budgetary reality has changed," Videgaray told a news conference. He said the government was shelving, for now, a project to build the rail link between Mexico City and the central city of Queretaro. The tender sparked accusations of shady dealings favoring a contractor close to President Enrique Peņa Nieto.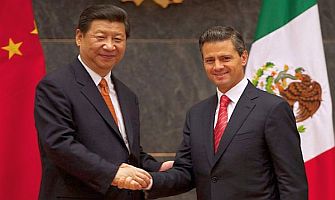 Since Pena Nieto took office in late 2012, he has tried to forge closer ties with China after years of rivalry between the two countries seeking to supply the US market.
China Railway Construction Corp (CRCC) had looked
poised to clinch the contract
even after its original winning bid was revoked when it became engulfed in the scandal. Peņa Nieto's family and Videgaray bought homes from a government contractor that was part of the consortium that won the original train tender, raising concerns about corruption and conflicts of interest. Videgaray declined to comment when asked what interest rate he had paid on a loan from the government contractor who sold him his house.
The scandal has compounded the president's woes. He was already grappling with the fallout of the abduction and massacre of forty-three trainee teachers in restive southwest Mexico last year as drug gang violence goes unchecked.
Analysts worry that Mexico's political crisis could further undermine implementation of a raft of major economic reforms seen as key to helping stem a slide in domestic oil output and bolster growth. The finance ministry still expects the economy to grow between 3.2 percent and 4.2 percent this year, Videgaray said. But in a client note, Barclays said it sees the cuts leading to a 40 basis point reduction in growth.
Videgaray said Mexico would cut spending by 124.3 billion pesos ($8.29 billion) this year, equal to 2.6 percent of the 2015 spending plan. The government uses oil revenues to fund about a third of its budget.
Earlier this month, Videgaray said that budget cuts this year would not be needed after the government bought derivatives to hedge its oil revenues.
Strategists said Mexico's cuts were a bid to insulate its financial markets from the current bout of global volatility. Foreign investors now hold more than 2 trillion pesos ($133 billion) of debt, nearly 40 percent of the stock.
"They are thinking about the huge amount of money that has entered Mexico and they well know that if they don't manage public finances properly, foreigners could get worried," said Salvador Orozco, a strategist at Santander in Mexico City.
A hike in U.S. interest rates, seen later this year, could spur a reversal in a tide of investment that has flooded into emerging markets in recent years.
Videgaray said the government would rely on austerity measures, but not tax hikes or more debt. A brand new multi-billion dollar airport project for Mexico City will not be affected, he said. "For a government that has emphasized the need for greater public investment, this is a step backward. There is a lot of wastage on the current spending side and it would have been ideal to see the bulk of the cuts fall there," said Rodrigo Aguilera, Mexico analyst for the Economist Intelligence Unit.
(Additional reporting by Alexandra Alper; Editing by Simon Gardner and Kieran Murray)
Original article