Puerto Vallarta, Mexico - By special arrangement with the amazing Broadway Cares/Equity Fights AIDS organization of New York, Casa Cupula will screen their most recent Broadway Bares show Rock Hard, on Saturday, March 14 at 9:00 pm at Taste.
Rock Hard, which took place in New York on June 22, 2014, raised almost $1.4 million USD. The event features 173 nearly-naked Broadway dancers performing an entirely original show with cameos by Tony Award winner Alan Cumming, and James Franco among others. Jerry Mitchell is executive director and choreographer.
Honoring iconic music moments and songs from Elvis to Pink, Aerosmith to Prince, the 24th edition of the burlesque extravaganza got a crowd of more than 5,000 people rocking, jumping and cheering for more during two performances at New York City's Hammerstein Ballroom.
Of course the event ends with their famous Strip-a-thon, where the crowd donates to their favorite dancers for a good cause. Taste will recreate a local strip-a-thon during the show to raise money, which will be matched by Casa Cupula at 50%.
A unique event in Puerto Vallarta, shown simultaneously on two big screens, the dinner event will be to benefit SETAC, Puerto Vallarta's LGBT community center. 10% of sales from the event will be donated to SETAC.
Book now at taste.com.mx. It's gonna be fun! For more information, call (322) 223-2484 extension 151.
---

The purpose of the SETAC Community Center, located at Constitucion #427 and the corner of Manuel Dieguez on the South side of Puerto Vallarta, is to provide essential services to the community, including physical and mental health treatment, referrals, and education in an atmosphere of safety, free from discrimination. For more information, contact Paco Arjona at (322) 224-1974 or
paco(at)setac.com.mx.
Click HERE to learn more about Centro Comunitario SETAC.
---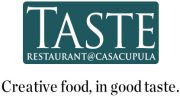 Open Monday-Saturday from 9 am to 11 pm and on Sundays from 10 am to 2 pm, Taste at Casa Cupula is located at Callejon de la Igualdad #129 on the southern shores of Puerto Vallarta, Mexico. For more information, visit taste.com.mx. For reservations, click HERE, call (322) 223-2484 ext. 151 or email taste(at)casacupula.com.