Puerto Vallarta, Mexico - If you are looking for something special to do this Saturday, then don't miss Puerto Vallarta's favorite weekend attraction: the Old Town Farmers Market-Tianguis Cultural. Located in Lazaro Cárdenas Park on PV's South side, the OTFM-TC is open every Saturday from 9:30 am to 2:00 pm.
This "make it, bake it, grow it" market will wow you with farm-fresh produce, ready-to-eat goodies, traditional Mexican instruments, artisan chocolates, handmade body products, whimsical decor, fashion-forward apparel and the beauty, craftsmanship and creativity of Chelow jewelry.
Meet Chelow
Owner and designer Chelow, began designing jewelry in 2004. Inspired by nature, the Mexican culture and most importantly, her clients, Chelow creates "fall in love with" pieces that will enhance the style and femininity of the wearer.
Chelow's unforgettable pieces fall into one of three inspiration lines:
• Brilliant and colorful, like Mexico itself.
• Classic and romantic, following Chelow's heart and fascination with cultured pearls from Mexico, Indonesia, Africa and Australia.
• Comfort and practicality - two things that are particularly important Chelow's pieces.
"One of our most-loved lines is 'Gypsy'," Chelow says. "It is inspired by our time on the beaches and surfing in colorful Sayulita," (located 43 km north of Puerto Vallarta.)
Smart and Fashionable
One of the most appealing aspects of Chelow jewelry is that each line is easily converted into many designs, styles and sizes.
"The necklaces are fully adjustable, matching the outfits my clients love to wear," explains Chelow. "For example, one necklace can be fashioned into many styles - short, long, wrap or double wrap. It's like you're buying four or five looks with just one purchase."
100% Handcrafted Jewelry
All Chelow designs are handcrafted by Chelow and her husband, Jorge. They use natural stones, turquoise, quartz, tiger eye, cornalline, coral, amethyst, aqua marine, amazonite, moon stone, jasper, agates, opals, jade, tourmaline, topaz, and much more to fashion their wearable art.
Chelow and her husband love to add an extra special touch to their Chelow line. They often use cultivated pearls and Swarovski crystals in combination with sterling silver .925, 24kt gold plating, handmade Mexican brass, cow and kangaroo leather or suede. The result is an exquisite piece that will flatter any client.
Chelow Creativity Continues
But don't think you'll come back to the Chelow market stall and see the same pieces season after season. No, she continues to thrill market-goers with new designs and materials. This season, she has added the smart and stylish appeal of Drusy and quartz pendants. They have been a big hit and promise to make the perfect gift for you or a loved one.
Stop by this Saturday to meet Chelow and find an extraordinary Chelow piece to enhance your style. For additional information, contact (322) 224-5799, (322) 147-7292, Facebook or chelow.84(at)hotmail.com.
Meet the OTFM
Ours is a festive "make it, bake it, grow it" North American style market that celebrates the tradition and culture of Mexico's outdoor tianguis markets. We are a registered non-profit/association civil organization that focuses on the "buy local" movement as well as entrepreneurial and community development.
You're Invited!
Join us this Saturday at our International Food Court (located under shaded pergolas on the eastern side of Lazaro Cárdenas Park). We're cooking up Thai, Indian, traditional Mexican favorites (tacos, empanadas, burritos and green pozole) and vegan dishes, such as hamburgers, al pastor and falafels.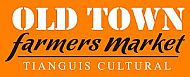 Located in Lazaro Cárdenas Park, kitty-corner to Daiquiri Dick's on Olas Atlas, the Old Town Farmers' Market-Tianguis Cultural is open every Saturday from 9:30 am to 2 pm from November 1 to April 25. For only $12 pesos an hour, you can park in the garage directly beneath the plaza. Or you can take a taxi or public bus, which stops along Pino Suarez Street, just steps from the Market. For market updates, please visit OldTownFM.com, and "like" us on Facebook.

Click HERE to learn more about the Puerto Vallarta Old Town Farmers' Market.