Update: Ollin Mexica's new company name is Heriko Joyeria. Owned by artisans Christel Reimink and Heriberto Saucedo, Heriko Joyeria carries an exquisite line of silver, gold, wood and leather pieces. Wow your Valentine with the magic and sophistication of featured fossils, specific stones and semi-precious stones. "Like" Heriko Joyeria on Facebook or contact them at (322) 190-5632, (322) 160-2747 (cell) or herikojoyeria(at)hotmail.com.
---
Puerto Vallarta, Mexico - With farm-to-table produce, live music, artisan products and ready-to-eat goodies, the Old Town Farmers Market is the place to be! Our vendors feature "make it, bake it, grow it" treasures to spoil your sweetheart this Valentine's Day!
One such "vendor duo" is Cristel Reimink and Heriberto Saucedo of Ollin Mexica. These two artisans have a special knack for wowing customers with distinctive, must-have, original jewelry pieces.
Get to Know Ollin Mexica
Ollin Mexica brings out the beauty of natural and organic materials, such as silver, gold, wood and leather, and the sophistication of fossils, specific stones and semi-precious stones.
"We strongly believe that handmade jewelry should feel great when you wear it," says Reimink. She and Saucedo encourage shoppers to respect the beauty and uniqueness of every stone. They invite shoppers to try on their jewelry and trust the intuitive energy of the stones, many of which are Mexican stones.
"Original," "A very unique style," "Drawn to it" and "Mystical"...all of these can be heard as shoppers try on and show off their favorite Ollin Mexica pieces.
The owners of Ollin Mexica are known for their classic silver and leather designs as well as for their customized friendship and wedding bands. They also lend their creativity to special designs, transforming old silver and gold into breathtaking designs.
Meet the Artisans
Guadalajara-native Heriberto Saucedo started his artisan journey twenty years ago. Two artisans showed him, a mere seventeen year old, how to make leather sandals. That very day, Saucedo made (and sold) his first pair. He was hooked and immediately invested in a set of tools to continue his sandal-making venture. Saucedo then began making bracelets, bags, taidai shirts and eventually, jewelry made from natural materials. With training from experienced artists and craftsmen as well as specialized courses, Saucedo has become a master at making people happy with his wonderful jewelry pieces.
Joining him is Netherlands-native, Cristel Reimink. She moved to Vallarta in 1997 and has been inspired by the arts and crafts of this country. She started making jewelry with pearls, beads and stones and later joined Saucedo. Together they created Ollin Mexica and have been a part of the OTFM since its first season.
"Over the years, many of our visitors have become returning customers and dear friends," says Reimink. She smiles and simply says, "We've become a part of each others' history."
Stop by this Saturday and pick out the perfect Valentine's Day gift from Ollin Mexica's complete line of jewelry. "On the spot" repairs and delivery options are available. For more information, call (322) 160-2747.
Get to Know the OTFM
Ours is a festive "make it, bake it, grow it" North American style market that celebrates the tradition and culture of Mexico's outdoor tianguis markets. We are a registered non-profit/association civil organization that focuses on the "buy local" movement as well as entrepreneurial and community development.
You're Invited!
Join us this Saturday from 9:30-2 in Lazaro Cárdenas Park, Old Town. And be sure to save your appetite for the International Food Court (located under shaded pergolas on the eastern side of Lazaro Cárdenas Park). We're cooking up Thai, Indian, traditional Mexican favorites (tacos, empanadas, burritos and green pozole) and vegan dishes, such as hamburgers, al pastor & falafels.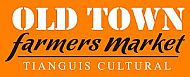 The Old Town Farmers' Market-Tianguis Cultural is open every Saturday from November 1 to April 25. For only 10 pesos an hour, you can park in the garage directly beneath our Lazaro Cárdenas Park location. Public buses and taxis also come this way with a Pino Suarez Street drop off, just steps from the market. For events and updates, please visit
OldTownFM.com,
and "like" us
on Facebook.
Click HERE to learn more about the Puerto Vallarta Old Town Farmers' Market.