Puerto Vallarta, Mexico - Get ready for a "make it, bake it, grow it" adventure for the senses this Saturday at the Puerto Vallarta Old Town Farmers Market-Tianguis Cultural. You'll enjoy the colors of our open-air market, the flavors of our ready-to-eat foods, the aroma of freshly-cut flowers, the rhythms of live music and of course, the textures of fine artisan goods.
In fact, you'll love the fashion-forward products of this week's featured vendor: Teresa Moreno of TY-Bikinis y Más.
Meet Teresa Moreno
Designer and seamstress, Teresa Moreno, creates some of Vallarta's most elegant (and comfortable) beachwear. Her designs can be found along pools and on beaches worldwide, thanks to a talent she inherited from both of her grandmothers.
A Family Tradition
Moreno's maternal grandmother had a knack for transforming fabric into stunning dresses with mere hand-stitching. Another grandmother, Ramona Sanchez, was well-known for creating ladies' undergarments and sleep wear. Sanchez taught her daughters, one of whom was Moreno's mother, Teresa Chavez. Being the eldest of 13 children, Chavez often made clothes for her sisters. But Chavez had big entrepreneurial dreams. She set out to build a large business and borrowed money to buy the first industrial machines on the market.
Chavez, like her mother before her, shared the tradition of sewing with her daughter. At age 13, Moreno was making and selling many of her own designs.
Eventually the family moved to Vallarta, where the clientele was abundant. Moreno studied dressmaking and eventually oversaw the production aspects of her mother's shop. The business thrived until the recession affected businesses worldwide and Chavez's shop was forced to shut its doors.
New Beginnings
Not ready to hang up her passions, Moreno returned to her sewing machine. Friends asked for custom beachwear, and before long, she launched TY-Bikinis y Más.
Today TY-Bikinis y Más follows in the footsteps of family tradition. It offers high-quality sewing techniques, fashion-forward designs and a comfortable fit for each product: swim wear, blouses, dresses and bathing suit cover-ups. You can find your favorite in a variety of colors and styles. Customized work is also available upon request.
A Proud Mexican Company
When asked what has been the key to her success, Moreno says, "I have the support of my family, and we make a great team." A 'great team' indeed, as Moreno's mother and several family members have joined her at TY-Bikinis y Más.
Moreno continues: "We work hard to exceed the expectations of our customers. We are a proud Mexican company and are committed to preserving something that is more than just a job - we preserve our family tradition."
Treat yourself to family tradition with a TY-Bikinis y Más original. Look for Moreno's "beach-a-licious" collection this Saturday at the market or connect via Facebook, ty-bikinis-y-mas(at)hotmail.com, (322) 225-2340 or (322) 137-0477 (mobile).
Get to Know the OTFM
Ours is a festive "make it, bake it, grow it" North American style market that celebrates the tradition and culture of Mexico's outdoor tianguis markets. We are a registered non-profit/association civil organization that focuses on the "buy local" movement as well as entrepreneurial and community development.
You're Invited!
Join us this Saturday, and be sure to save your appetite for the International Food Court (located under shaded pergolas on the eastern side of Lazaro Cárdenas Park). We're cooking up Thai, Indian, traditional Mexican favorites (tacos, empanadas, burritos and green pozole) and vegan dishes, such as hamburgers, al pastor and falafels.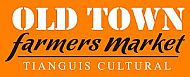 Located in Lazaro Cárdenas Park, kitty-corner to Daiquiri Dick's on Olas Atlas, the Old Town Farmers' Market-Tianguis Cultural is open every Saturday from 9:30 am to 2 pm from November 1 to April 25. For only $12 pesos an hour, you can park in the garage directly beneath the plaza. Or you can take a taxi or public bus, which stops along Pino Suarez Street, just steps from the Market. For market updates, please visit OldTownFM.com, and "like" us on Facebook.

Click HERE to learn more about the Puerto Vallarta Old Town Farmers' Market.