Puerto Vallarta, Mexico - Valentine's Day is just around the corner, and our 90+ "make it, bake it, grow it" vendors have extraordinary gifts on hand to help you say, "I Love You!" From freshly cut flowers and artisan chocolates to ready-to-eat goodies and one-of-a-kind accessories and décor, you'll find something to win the heart of your loved one.
In fact, this week we're featuring the "heart connections" of Wiki's embellished boxes, magnets, hangers, wall art, clocks and personal accessories.
A Magical Connection
Wiki was founded on what architect and Wiki owner Liz Montejano describes as "the magical idea of connecting people with Mexico's past."
Her grandfather was a fine woodworker, and she followed in his footsteps by teaching herself the art. For the last three years, Montejano has been lending her architectural expertise and sharing the messages of prehispanic Mexico through modern-day objects. Each piece is inspired by prehispanic graphics often found on codex, seals, rocks and pyramids.
When asked "Why wood on which to create?" Montejano smiles and says, "It is very expressive. It speaks to every age, and always suggests how it wants to be presented."
Woodworking Magic
Montejano uses her creative imagination to create her designs and then matches them up to a high quality custom-cut primavera wood.
Once in the workshop, the woodworking magic begins. Montejano revs up her power tools and sands the wood by hand. She then uses a specialized pyrography tool for intricate carvings. It's during this phase that Montejano claims the wood "shares how it wants to crafted and how it ought to be dressed in color."
When the process is complete, each Wiki piece is marked with serial number for authenticity and then patiently waits to connect with its purchaser. Montejano says, "Each piece is destined to connect with the heart of the person to whom it was destined."
She adds, "Wiki art joins worlds and experiences. It reaches beyond borders, shares Mexico's talent and tradition and brings happiness to households around the world."
Stop by this Saturday and see which Wiki piece will win the heart of your sweetie. Montejano also creates customized pieces. Simply share a general idea of what you'd like and watch Montejano add her artistic touch. Within one week, you'll have a special piece of woodworking magic.
To learn more, visit flumont.com or contact (322) 281 6861, (322) 120-8223 or liz-mf(at)hotmail.com.
Get to Know the OTFM
Ours is a festive "make it, bake it, grow it" North American style market that celebrates the tradition and culture of Mexico's outdoor tianguis markets. We are a registered non-profit/association civil organization that focuses on the "buy local" movement as well as entrepreneurial and community development.
You're Invited!
Join us this Saturday from 9:30-2 in Lazaro Cárdenas Park, Old Town. And be sure to save your appetite for the International Food Court (located under shaded pergolas on the eastern side of Lazaro Cárdenas Park). We're cooking up Thai, Indian, traditional Mexican favorites (tacos, empanadas, burritos and green pozole) and vegan dishes, such as hamburgers, al pastor and falafels.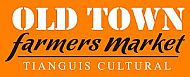 Located in Lazaro Cárdenas Park, kitty-corner to Daiquiri Dick's on Olas Atlas, the Old Town Farmers' Market-Tianguis Cultural is open every Saturday from 9:30 am to 2 pm from November 1 to April 25. For only $12 pesos an hour, you can park in the garage directly beneath the plaza. Or you can take a taxi or public bus, which stops along Pino Suarez Street, just steps from the Market. For market updates, please visit OldTownFM.com, and "like" us on Facebook.

Click HERE to learn more about the Puerto Vallarta Old Town Farmers' Market.