Puerto Vallarta, Mexico - Sure, the Old Town Farmers Market-Tianguis Cultural is loaded with an abundance of can't-miss 'make it, bake it, grow it' products, but did you know that they also have some good-for-you personal services?
If your body is aching for an "ahh" kind of chiropractic treatment, then you'll love the talent and expertise of American-trained and board certified Dr. Erik Fulfer.
Meet Erik Fulfer, DC
Dr. Fulfer is the proud owner and practitioner of Bahia Chiropractic & American Chiropractic. He started his professional journey by following in the footsteps of his grandfather, a World War II veteran-turned-chiropractor.
Fulfer enlisted in the U.S. Military and served four years with the 82nd Airborne Division and the 508th Airborne Battalion. He was honorably discharged from the U.S. Army in 1994. Then, like his grandfather who attended chiropractic school in the 1950s, Fulfer went on to complete his science-based undergraduate studies in order to attend the largest chiropractic institution in the country at the time. Fulfer graduated from Life University School of Chiropractic in March 2000 and successfully passed all four parts of the National Board of Chiropractic Exams as well as the physical therapist exams.
In the following nine years, Dr. Fulfer applied every bit of his training to helping patients reclaim their health and vitality in his practice in Atlanta, Georgia, serving as Associate DC, Clinic Director and owner.
Big Dreams in Mexico
Although Dr. Fulfer was fulfilling his life's passion in the U.S., he dreamt of practicing chiropractic care in Mexico. He shared this dream with his wife, Michelle, and their daughter, Sofia. It took them three years, but they finally arrived to the Banderas Bay area in 2010.
Same Day, On-Site Chiropractic Care
In 2011, Dr. Fulfer joined over 80 vendors at the Vallarta's favorite weekend attraction: the OTFM-TC. His mission? To share his passion for good health and over 15 years of experience with international visitors. He set up a chiropractic table under a shaded tent and happily treated market goers to highly effective on-site treatments.
Today, Dr. Fulfer continues to help thousands enjoy their stay in sunny Mexico without pain and discomfort. And now you, too, can experience what it means to be free from troublesome symptoms. Simply stop by Dr. Fulfer's tent in Lazaro Cárdenas Park this Saturday to make a same-day appointment.
Mobile Chiropractic Services Along the Bay
Not only does Dr. Fulfer treat patients at the market, but he also operates Vallarta's only mobile chiropractic service. Don't miss out on the opportunity to have a chiropractic treatment in the comfort of your home, office, resort or spa. Dr. Fulfer's mobile service is available on Tuesdays and Thursdays from 8:30 am - 6:00 pm. To schedule an Vallarta-based appointment, call (044) 322-182-5045 or email bahiachiro(at)gmail.com.
Dr. Fulfer also serves the north side of the Banderas Bay from his Bucerias office. It's conveniently located inside the Mega store across from the Flamingos Golf Course. Appointments are available on Mondays, Wednesdays and Fridays from 9:00 am - 1:00 pm and 2:00 pm - 5:00 pm. To make a Bucerias-based appointment, call (044) 322-180-7393 or email megachiropractic(at)gmail.com.
To learn more about Dr. Fulfer and his approach to chiropractic care, visit BahiaChiropractic.com.
Get to Know the OTFM
Ours is a festive "make it, bake it, grow it" North American style market that celebrates the tradition and culture of Mexico's outdoor tianguis markets. We are a registered non-profit/association civil organization that focuses on the "buy local" movement as well as entrepreneurial and community development.
You're Invited!
Join us this Saturday from 9:30-2 in Lazaro Cárdenas Park, Old Town. We have everything from live music to artisan décor and natural body products to handmade apparel. And be sure to save your appetite for the International Food Court (located under shaded pergolas on the eastern side of Lazaro Cárdenas Park). We're serving Thai, Indian, traditional Mexican favorites and vegan dishes, such as hamburgers, al pastor and falafels.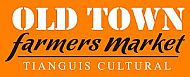 Located in Lazaro Cárdenas Park, kitty-corner to Daiquiri Dick's on Olas Atlas, the Old Town Farmers' Market-Tianguis Cultural is open every Saturday from 9:30 am to 2 pm from November 1 to April 25. For only $12 pesos an hour, you can park in the garage directly beneath the plaza. Or you can take a taxi or public bus, which stops along Pino Suarez Street, just steps from the Market. For market updates, please visit OldTownFM.com, and "like" us on Facebook.

Click HERE to learn more about the Puerto Vallarta Old Town Farmers' Market.