Puerto Vallarta, Mexico - The Old Town Farmers' Market-Tianguis Cultural has a wealth of treasures and experiences to share with you this Saturday. Fill your eco-friendly bags with farm-to-table ingredients and "make it, bake it, grow it" treasures. Then dance to live music before indulging in ready-to-eat delectables such as Maria Reyes' Corn Flan.
Meet Maria Reyes
Maria Reyes crafted an executive administrative career in the hustle and bustle of Mexico City. She commuted three hours, twice a day, juggling work responsibilities before heading home to be a full-time homemaker.
After 40 years of dedication, Reyes found herself jobless due to the global economy crisis and despite her experience, age discrimination prevented Reyes from securing a similar position.
Something had to be done. Reyes boarded a bus for Puerto Vallarta in 2009 and arrived at the home of her recently deceased mother. She reached out to family friends who had promised help, but it didn't come. And once again, age discrimination prevented Reyes from reentering the work force.
Opportunity Bakes
Desperate, Reyes looked to her past. As a teenager, she worked alongside a seasoned baker in a family restaurant. She helped him use old world recipes to make the traditional Christmas cake. So she began baking again and added locally grown ingredients to shake up the recipes.
"My Canadian neighbor was expecting her mother for a visit, so I prepared my corn cake as a welcome gift," says Reyes. "The next day I found a beautiful pink note at my door. It said, 'Maria, your corn cake is the richest we have ever eaten!'"
Reyes was inspired. She headed for the newly-opened OTFM-TC, knowing that its founder, Charlotte Semple, was looking for local producers to sell their goods. Reyes was nervous - not having spoken English in years - but came with corn cake, choux and baked meringues.
Reyes laughs and says, "Charlotte invited me to be a vendor, but she kept calling the corn cakes 'Corn Flan.' The name stuck, and now I tell everyone that she named my cakes!"
A Market Favorite
Every Saturday, Market fans line up for Reyes' traditional Mexican gourmet pastries. Along with the corn cakes that are gluten free she offers a selection of sugar-free and dairy-free products. Savor the flavor of these baked favorites:
• "God's Dessert" (a chocolate cake)
• Habanero and roasted pepper tarts
• Portobello/cheese tarts
• Vanilla/peach cakes
• Vegetable tarts
• Apple/cinnamon/cranberry cakes
• Banana/peanut butter/chocolate cakes
• Green apple/pecan/maple cakes
"I am very thankful that Charlotte and the vendor selection committee gave me a chance to begin something new for my life," says Reyes, proud to make a living on market sales.
Reyes also bakes year-round. Place your orders by contacting Reyes at 322-281-6539, 322-128-9667, cornflan(at)hotmail.com, or Facebook.
Get to Know the OTFM
Ours is a festive "make it, bake it, grow it" North American style market that celebrates the tradition and culture of Mexico's outdoor tianguis markets. We are a registered non-profit/association civil organization that focuses on the "buy local" movement as well as entrepreneurial and community development.
You're Invited!
Join us this Saturday from 9:30-2 in Lazaro Cárdenas Park, Old Town. And be sure to save your appetite for the International Food Court (located under shaded pergolas on the eastern side of Lazaro Cárdenas Park). We're cooking up Thai, Indian, traditional Mexican favorites (tacos, empanadas, burritos and green pozole) and vegan dishes, such as hamburgers, al pastor and falafels.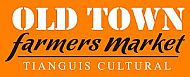 Located in Lazaro Cárdenas Park, kitty-corner to Daiquiri Dick's on Olas Atlas, the Old Town Farmers' Market-Tianguis Cultural is open every Saturday from 9:30 am to 2 pm from November 1 to April 25. For only $12 pesos an hour, you can park in the garage directly beneath the plaza. Or you can take a taxi or public bus, which stops along Pino Suarez Street, just steps from the Market. For market updates, please visit OldTownFM.com, and "like" us on Facebook.

Click HERE to learn more about the Puerto Vallarta Old Town Farmers' Market.