Puerto Vallarta, Mexico - The OTFM-TC has been a Saturday favorite for six seasons. And while our "producer only" market offers farm-fresh produce, artisan goods, home décor, fashions and accessories, our on-site International Food Court has won the hearts - and taste buds - of tourists and residents alike.
Stop by this weekend to taste what "make it, bake it, grow it" is all about! You're welcome to dine in (under the shaded pergolas on the eastern side of Lazaro Cárdenas Park) and enjoy live entertainment or take your orders to-go for more shopping fun.
El Taco Ranchero - If you love tacos, quesadillas, huaraches ad burritos, make a beeline for Angela Quintero's El Taco Ranchero stand. You'll find fresh tortillas, quality meats and all the trimmings. 322-133-0364 or lamancha90(at)hotmail.com.
Veggie Table - Sandra Tiznado delights patrons with her mouth-watering vegan entrées: hamburgers, al pastor, falafels and sticky buns. veggietable.com.mx, 322-178-5307 or stiznado72(at)gmail.com.
India Gate Restaurant
- Each week, Andrea Hernández creates authentic Indian food cooked in a punjab tandoor, a traditional Indian oven. Treat yourself to their special blend of spices for an unforgettable culinary experience. (Allende 124 restaurant in Centro Vallarta)
Facebook
,
ah.indiagatemex(at)gmail.com,
or 322-105-8726.
Jugos y Aguas Gloria - Gloria López Salazar selects fresh, locally grown fruit and mixes it with purified water, ice, and sugar to create all-natural aguas frescas (fresh waters). Flavors include jackfruit, jamaica, orange, passion fruit, pineapple, rice and watermelon. 322-229-3295 or lidethrlk(at)hotmail.com.
Narisa's Thai Kitchen - Narisa Moros shares the traditions of her homeland with her Thai Kitchen cuisine. She maintains the authenticity with hard-to-find Thai ingredients, including specialty herbs from fellow OTFM-TC farmer-vendor, Gustavo Avalos. 322-293-5983 or narijoe123(at)gmail.com.
Tamales y Empanadas Angel - María de Los Angeles Garcia de Zambrano's tamales and empanadas burst with flavor. She uses long-time family recipes, local ingredients and several days' worth of preparation to create these Mexican favorites. 322-222-0610 or zhalegalcounsel(at)gmail.com.
La Mexicana - Indulge in Mónica Moreno's traditional Mexican food. It's served in clay pots, accentuating the flavors and bringing an unforgettable tasting experience to the palate. 322-225-2340 or monyck_28(at)hotmail.com.
Comida Taiwanesa - Li Wei Lin will wow you with his always-popular Taiwanese Food. Each dish is vegan-friendly and perfectly matched to his refreshing green or red tea. 322-152-1102 or cinramlim(at)hotmail.com.
Teosintle Pozole Verde Estilo Guerrero - Traditional Mexican green pozole - which is the typical dish from the state of Guerrero - is the order of the day with Elia Meneses popular recipe. It's made in the Guerrero style, hearty and bursting with flavor. 322-222-7088 or edson.ballesteros(at)hotmail.com.
Mr. Pistaches - Oscar Fernández will treat you to the finest candied nuts in Puerto Vallarta. Sweet and salty, you'll have a hard time eating just one handful! 322-293-3028 or oscar_fdez73(at)hotmail.com.
Sweets & Eats
Be sure to save some room for the sweet stuff! We have all sorts of sweets and eats to enjoy: cakes, cookies, artisan chocolates, peanut brittle, sweet candied nuts, sticky buns, chocolate-dipped bananas and much, much more!
Live Entertainment
Join us in celebration with live music from national and international musicians. Every Saturday, guest artists entertain us with upbeat harmonies and soulful serenades. You'll love the rhythmic energy that brings out the best in us.
Get to Know the OTFM-TC
Join us this Saturday from 9:30-2 in Lazaro Cárdenas Park, Old Town Vallarta. Ours is a festive "make it, bake it, grow it" North American style market that celebrates the tradition and culture of Mexico's outdoor tianguis markets. We are a registered non-profit/association civil organization that focuses on the "buy local" movement as well as entrepreneurial and community development.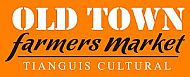 Located in Lazaro Cárdenas Park, kitty-corner to Daiquiri Dick's on Olas Atlas, the Old Town Farmers' Market-Tianguis Cultural is open every Saturday from 9:30 am to 2 pm from November 1 to April 25. For only $12 pesos an hour, you can park in the garage directly beneath the plaza. Or you can take a taxi or public bus, which stops along Pino Suarez Street, just steps from the Market. For market updates, please visit OldTownFM.com, and "like" us on Facebook.

Click HERE to learn more about the Puerto Vallarta Old Town Farmers' Market.