Puerto Vallarta, Mexico - Ready for something extraordinary? The Puerto Vallarta Old Town Farmers Market-Tianguis Cultural's 80+ "make it, bake it, grow it" vendors are serving up must-sees, must-haves and must-experiences! Each week OTFM-TC features live music, massage treatments, artisan décor, natural body products, and fresh tamales from "The Tamale Diva" of Tamale Gourmet!
Tamale Gourmet, the Story
by Adriana Basail (a.k.a. "The Tamale Diva")
I was living in San Pancho, Riviera Nayarit, when the 2009 recession hit. To earn extra cash, I sold homemade muffins and pizzas. One day I was returning from the market and discovered a package of corn husks in my bag that I had not remembered buying.
I had never made nor watched someone prepare a tamale (the indigenous Náhuatl word for "wrap"), and honestly, had never been fond of the fare. But, I loved to cook and decided to make use of the corn husks anyway.
Traditional tamales are made from masa (corn dough), lard and skimpy portions of varied ingredients. Since I am an advocate for healthy food choices, I began thinking of unique flavors to please the modern-day palette. I played with healthier ingredients, including freshly milled masa, butter and olive oil. Within a few weeks, I had created my first anisette sweet tamales. I gladly gave them away to close friends, and soon, they were calling for more. I was in business!
A Tamale Twist
When the Old Town Farmers Market-Tianguis Cultural was getting ready for its first season, I was invited to submit an application. I decided to add my own "tamale twist" to their international food menu. My tamales were made with less dough, no lard, and more filling. They were a hit and soon, I had my very own Tamale Gourmet stall.
Today, the quality of my hand-selected, seasonal ingredients make all the difference. Tamale lovers can taste the time and technique that is put into assembling each gourmet tamale and making sure it pops with flavor. I spend hours pairing the best ingredients from a long list of healthy ingredients: curry, lentils, carrots, plantain, raisins, coconut, peanuts, cilantro, spinach, pine nut, portobello, red roasted bell pepper, farmers cheese, black beans, zucchini, poblano, eggplant, basil, gouda and goat cheese, mahi-mahi, dill capers, almonds, chocolate and cranberries.
I even have vegan gourmet tamales!
The fusion between prehispanic, contemporary and international cuisine - along with fresh, locally grown ingredients - is my trademark.
Warm Tamale Goodness
Stop by Tamale Gourmet this Saturday for your very own freshly made tamale. As you open the warm corn husk, the aroma and fluffy dough will capture your senses. You'll love the flavor and texture, knowing that each bite is delicious and healthy. Don't forget to try it with my fresh and mild house salsa. You will not regret each flavor-filled bite, and chances are, you will be back for more!
Perhaps it was a coincidence or maybe a sign that that package "magically appeared" in my bag on that fateful day in 2009, but bless those beautiful corn husks!
Special Delivery
Tamale Gourmet is available for catering small events (minimum order of 24 and a maximum of 150). Simply make a reservation five days in advance. Special ingredient orders are available upon request. Small orders can be picked up on Saturdays at the market (9:30-2:00) through April 25. Larger orders can be delivered. Contact adrianabasail(at)gmail.com (preferred), 322-779-8037 or 322-224-1671.
Get to Know the OTFM
Ours is a festive "make it, bake it, grow it" North American style market that celebrates the tradition and culture of Mexico's outdoor tianguis markets. We are a registered non-profit/association civil organization that focuses on the "buy local" movement as well as entrepreneurial and community development.
You're Invited!
Join us this Saturday from 9:30-2 in Lazaro Cárdenas Park, Old Town. And be sure to save your appetite for the International Food Court (located under shaded pergolas on the eastern side of Lazaro Cárdenas Park). We're serving Thai, Indian, traditional Mexican favorites and vegan dishes, such as hamburgers, al pastor and falafels.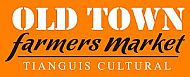 Located in Lazaro Cárdenas Park, kitty-corner to Daiquiri Dick's on Olas Atlas, the Old Town Farmers' Market-Tianguis Cultural is open every Saturday from 9:30 am to 2 pm from November 1 to April 25. For only $12 pesos an hour, you can park in the garage directly beneath the plaza. Or you can take a taxi or public bus, which stops along Pino Suarez Street, just steps from the Market. For market updates, please visit OldTownFM.com, and "like" us on Facebook.

Click HERE to learn more about the Puerto Vallarta Old Town Farmers' Market.