Puerto Vallarta, Mexico - If you're ready to discover something new and exciting, then come down to Vallarta's Old Town Farmers' Market-Tianguis Cultural in Lazaro Cardenas Park this Saturday. We have live music, warm weather, a cool downtown vibe and over 90 vendor stands with exceptional 'make it, bake it, grow it' products and services!
While you're here, be sure to visit this season's newest vendors. They have all sorts of goodies to discover, so get 'em while you can as the market's 2014-2015 season will be drawing a close on April 25.
• Art meets function with Rafael Adolfo Montufar's handwoven baskets and containers. Made from palms found along the Banderas Bay, each piece makes a special gift for your loved ones back home.
rafitiz_k2(at)hotmail.com
or 322-129-3054
• Francisco Javier Salcedo Zepeda of Milagro del Arte creates decorative wooden crosses and hearts with milagros (religious folk charms). milagroarte(at)bereda.com or 322-188-8351
• Amp up your breads, pastas, meats and salads with Jan's Specialty Condiments. You'll go gaga over producer Jan Saridakis' locally made jams, jellies, chutneys and sauces. jansaridakis(at)hotmail.com or 322-222-0462
• Hungry for homemade sausages? Your mouth will water for Perros Locos Hot Dogs Gourmet made by Juan Sebastian Palafox Briones. Load 'em up and taste the amazing goodness that will leave you hungry for more! palafoto73(at)hotmail.com or 322-222-2868
• Italian Liquors, pasta sauces and infused oils. Your weekly menu never had it so good! Don't miss La Dolceria Produzione Italiana by Marcela Duque Torres. Every product is handmade with blow-your-mind Italian quality and local ingredients. Facebook, marceladuque_84(at)hotmail.com or 322-164-1990
• Veronica Martinez Bautista creates fun and flirty dresses and blouses for girls as well as sharp short sets for boys. Fit your favorite youngster (up to size 8) with bright, colorful and original styles made right here in Mexico. veluja13(at)hotmail.com or 322-299-4631
• Love all things live and ready-to-plant? Let Maria Elena Avalos Valdivia fill your home or garden with abundant, native plants from Plantas Regionales Puerto Vallarta. She uses seeds grown in her nursery to delight market fans with everything from fruit trees to ornamental plants. avalosv(at)gmail.com or 322-116-3905
Sweets & Eats
When you're ready to take a break from shopping, head on over to our International Food Court (under the shaded pergolas on the eastern side of Lazaro Cárdenas Park). We're serving up tasty Thai, Indian, traditional Mexican favorites and vegan entrées (hamburgers, al pastor, falafels and sticky buns). Then satisfy your sweet tooth with cakes, cookies, chocolate-dipped bananas and candied nuts!
Get to Know the OTFM
Ours is a festive "make it, bake it, grow it" North American style market that celebrates the tradition and culture of Mexico's outdoor tianguis markets. We are a registered non-profit/association civil organization that focuses on the "buy local" movement as well as entrepreneurial and community development.
You're Invited!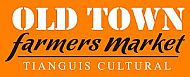 Located in Lazaro Cárdenas Park, kitty-corner to Daiquiri Dick's on Olas Atlas, the Old Town Farmers' Market-Tianguis Cultural is open every Saturday from 9:30 am to 2 pm from November 1 to April 25. For only $12 pesos an hour, you can park in the garage directly beneath the plaza. Or you can take a taxi or public bus, which stops along Pino Suarez Street, just steps from the Market. For market updates, please visit OldTownFM.com, and "like" us on Facebook.

Click HERE to learn more about the Puerto Vallarta Old Town Farmers' Market.