Puerto Vallarta, Mexico - Each week, the Old Town Farmers' Market-Tianguis Cultural celebrates its 90+ "make it, bake it, grow it" vendors. International artists, soap makers, jewelers, doctors, farmers, bakers, seamstresses and chocolatiers - all of whom are experts in their producer-only fields - make up the roster. This week we are highlighting the loco (crazy) vendor of MuchoCoco, Carlos Morlett.
Meet MuchoCoco
It was a bright sunny day in 2010, when a warm tropical breeze swayed the palms and sent a coconut straight down on Carlos Morlett's head.
"When it happened, something shook loose in my brain," says Morlett, claiming in jest that the incident caused him to be a little crazy for coconuts! But this soon-to-be entrepreneur wasn't crazy. He figured out how to maximize the benefits of this natural ingredient and share it with thousands of national and international shoppers.
Morlett was no stranger to coconuts. As a child vacationing in the tropics, he would watch the locals cook with coconut oil and use the fruit's skin as a natural moisturizer and sun block. They even used the wood - from what they called the "Tree of Life" - to build their homes.
Today, natural product-lovers around the world have joined Morlett in their loco-ness for coconuts! They enjoy the benefits of coconut oil to moisturize dry skin, calm irritated areas and amplify one's natural beauty. With over 300 ways to use coconuts for a healthy lifestyle, Morlett's brings his own tried-and-true methods to create a line of 100% natural, coconut body products.
100% Natural Coconut Products
Through extensive research and testing, MuchoCoco has found a way to efficiently utilize the various healing properties of the coconut.
"We use only the purest products sourced directly from clean lands where they are naturally grown, processed and packed with the utmost care," says Morlett. "This process allows us to guarantee the freshness, quality and effectiveness of all of our coconut skincare products."
The MuchoCoco product line includes pure coconut oil (in solid and liquid form) and bougainvillea infused coconut oil. MuchoCoco products can also be found in spas, hotels and resorts, and specialty boutiques throughout Mexico.
If you'd like to learn more about MuchoCoco, contact Morlett at (322) 134-4162 or sunvirginbioorganic(at)yahoo.com.
Get to Know the OTFM
Ours is a festive "make it, bake it, grow it" North American style market that celebrates the tradition and culture of Mexico's outdoor tianguis markets. We are a registered non-profit/association civil organization that focuses on the "buy local" movement as well as entrepreneurial and community development.
You're Invited!
Join us this Saturday from 9:30-2 in Lazaro Cárdenas Park, Old Town. And be sure to save your appetite for the International Food Court (located under shaded pergolas on the eastern side of Lazaro Cárdenas Park). We're serving Thai, Indian, traditional Mexican favorites and vegan dishes, such as hamburgers, al pastor and falafels.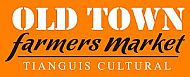 Located in Lazaro Cárdenas Park, kitty-corner to Daiquiri Dick's on Olas Atlas, the Old Town Farmers' Market-Tianguis Cultural is open every Saturday from 9:30 am to 2 pm from November 1 to April 25. For only $12 pesos an hour, you can park in the garage directly beneath the plaza. Or you can take a taxi or public bus, which stops along Pino Suarez Street, just steps from the Market. For market updates, please visit OldTownFM.com, and "like" us on Facebook.

Click HERE to learn more about the Puerto Vallarta Old Town Farmers' Market.