Puerto Vallarta, Mexico - Saturday, April 25, marks the last day of our best season yet! We've enjoyed a record-breaking number of visitors, an estimated 125,000, who came to shop at 90 vendor stands offering the largest selection of one-of-a-kind goodies and must-experience on-site services.
Get to Know the Market
Known as Puerto Vallarta's favorite weekend attraction, ours is a fun-filled, "make it, bake it, grow it" North American style market. For the past six seasons, we've celebrated the tradition and culture of Mexico's tianguis markets. Tianguis - outdoor markets - have been around long before the Conquistadors settled in the new land. The OTFM-TC market honors this history while providing a "back to the land" movement that supports local food and craft artisans.
A Producer-Only History
When the "back to the land" movement caught on in Puerto Vallarta, community leaders recognized the ethical and economical significance of a producer-only market. One member in particular, Charlotte Semple, was inspired to create a venue in which shoppers enjoyed direct contact with farmers, producers and artisans. Thirty local vendors and a handful of volunteers joined the Canadian native, and within two weeks, the OTFM-TC opened its doors in 2010. It was a big hit with over 800 shoppers stopping by on the first day.
Market Governance
In June 2014, the market achieved its long term goal to become a nonprofit organization. It is now administered by a Board of Directors, Executive Director, Market Coordinator and a Vendor Selection Committee. In order to maintain the high quality and diversity the market is famous for, the committee - comprised of vendors and community representatives - vet all new applicants and their products.
All of our vendors are registered, tax-paying business owners who live full-time within 75 kilometers of Puerto Vallarta. Since the market's inception, we have maintained a diverse vendor roster: 70 percent are nationals and 30 percent are internationals from Argentina, Canada, Chile, England, Thailand, Taiwan and the United States.
Money Matters
When asked, "Where does all the money go?" we explain that revenues from vendor fees are used to cover market operational costs (weekly permits, association dues, equipment, marketing and staffing). This season the market paid a combined total of $140,000 pesos in permit and association fees to the city of Puerto Vallarta and the Emiliano Zapata Business Association. Portions of these funds are returned back to the community for neighborhood improvements and development. The surplus is then dispersed between the growth of the market and the ongoing business development of our market vendors.
And what a development it's been! Many of our vendors are now self-reliant entrepreneurs, supporting their families with their talents. In addition, this season has been a market-wide success as vendors have reported sales increases of 20-50 percent.
Something for Everyone
"Best way to spend Saturday mornings... I would suggest going early and stay till closing... there is something for everyone." - Elzbieta G.
"This is a bustling farmers market. So much to see and with so much variety! Do not miss this!" - 777Deana777, TripAdvisor
This season, over 125,000 national and international shoppers indulged in an endless variety of producer-only goods and services, including: • farm-fresh produce • apparel • homemade dips and salsas • freshly cut flowers • handcrafted jewelry • artisan bread and baked goods • natural body products • fresh pasta • refreshing beverages • organic coffee • flavorful cheeses • baked goods • international foods to take home or enjoy on site • hand-rolled cigars • artisan chocolates • live music • massage or chiropractic treatments • nonprofit organizations
Sweets & Eats
Be sure to save your appetite for our always-popular International Food Court (under the shaded pergolas on the eastern side of Lazaro Cárdenas Park). We're serving up tasty Thai, Indian, traditional Mexican favorites and vegan entrées (hamburgers, al pastor, falafels and sticky buns). Then satisfy your sweet tooth with cakes, cookies, artisan ice cream, chocolate-dipped bananas and candied nuts!
You're Invited!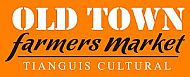 Join us this Saturday, April 25, from 9:30 am to 2:00 pm in Lazaro Cárdenas Park, Old Town. The market will open again on the first Saturday in November and run through the last Saturday in April 2016. For market updates, please visit OldTownFM.com, and "like" us on Facebook.

Click HERE to learn more about the Puerto Vallarta Old Town Farmers' Market.