Puerto Vallarta, Mexico - In a celebration of community and diversity, the Third Annual Vallarta Pride festival will feature a myriad of events from May 17-25, 2015. Organizers are estimating that around 10,000 people will be in Puerto Vallarta for the week of festivities.
This year's theme is "A Celebration of Unity" and Daiquiri Dick's Restaurant will be participating by featuring a refreshing cocktail as a special and donating a percentage of the proceeds to SETAC, Puerto Vallarta's GLBT Community Center.
Swing into the restaurant any time between 9 am and 11 pm and order a Pink Mary cocktail, which is a combination of vodka, fresh watermelon juice and fresh mint with a hint of sweetness to balance out this refreshing cocktail.
Daiquiri Dick's is donating 25 percent of the $100 peso price to the SETAC Center. Please join us in supporting our community and enjoy a Pink Mary with a meal, snack, by itself, or get it to go.
In 2006, SETAC became the first medical outreach center in Mexico to be part of the CAPASITS (walk in center for the prevention and treatment of AIDS and sexually transmitted diseases) federal health care system. The SETAC staff out sources various services to the medical professionals in the CAPASITS network. This includes doctors, psychologists, social workers and dentists.
The center performs the HIV Rapid Test. They have done over 3500 in the last three years. If a person tests positive, the SETAC staff helps them get to the CAPASITS office, even if that means driving them, and introduces them to the doctors, the facilities and other care givers.
They also provide HIV medication, but prevention costs a lot less than treating the disease, so over the last few years, SETAC has handed out over 500,000 free condoms, and they'll be passing them out during Vallarta Pride, too.
You can visit the SETAC Community Health Center in Colonia Emiliano Zapata, Constitución #427, on the corner of Manuel M. Diéguez, where the buses for Mismaloya line up. Their regular hours are Monday through Friday, 10 am to 6 pm. Visit the SETAC website for more information.
Get your Pink Mary at Daiquiri Dick's and assist a worthy cause.
All the Vallarta Pride 2015 events hope to inspire, educate, commemorate and celebrate PV's diverse community. Join the fun!
Open daily from 9 am to 11 pm, (Closed on Tuesdays from April to October) Daiquiri Dick's offers elegant dining in a relaxed atmosphere for breakfast, lunch or dinner. Visa, MasterCard and Banamex accepted. Reservations are recommended and can be made online at ddpv.com.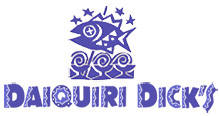 Daiquiri Dick's contemporary design exudes a quiet elegance that invites relaxation, and its tropical location at Olas Altas 314 on Los Muertos Beach offers the perfect atmosphere for enjoying spectacular views of Banderas Bay. For reservations call (322) 222-0566. For more information, visit
DDPV.com
.
Click HERE to read more about Daiquiri Dick's.
---

The purpose of the SETAC Community Center, located at Constitucion #427 and the corner of Manuel Dieguez on the South side of Puerto Vallarta, is to provide essential services to the community, including physical and mental health treatment, referrals, and education in an atmosphere of safety, free from discrimination. For more information, contact Paco Arjona at (322) 224-1974 or
paco(at)setac.com.mx.
Click HERE to learn more about Centro Comunitario SETAC.