Puerto Vallarta, Mexico - No Way José! brings another amazing season to a close with a classic NWJ! Fiesta. Join Tu Casa en Vallarta on Friday, May 29 to say "hasta la vista" until October. House duo favorites, 'Irene y Su Sentimiento Latino,' begin live music entertainment at 7:30 pm. Don't miss the traditional End-of-Season piñata in the street and enjoy one last swing this year.
The total monies donated through the Restaurant Week 2015 campaign will be presented to Cheryl's Shoebox during the party so don't forget: you still have this week to enjoy a delicious Restaurant Week menu and automatically donate to Cheryl's Shoebox, an organization focused on collecting and distributing shoes to the children, families and individuals in need throughout Puerto Vallarta, Mexico and the outlying communities.
In addition to the automatic donation you make to Cheryl's Shoebox from purchasing the Restaurant Week Menu, you can also still bring a pair of new children's shoes for ages 5-12 to donate! Each pair goes toward the goal of providing each student in a chosen community school a pair of new shoes to start the school year. A little goes a long way, so come and celebrate, donate and feel good for having a great time!
Click HERE for more information on Cheryl's Shoebox and how you can donate to this organization that has been providing shoes for children in need since 2011.
Stay tuned to the No Way José! website and social media channels to stay in touch, and to keep up with their adventures as they look for new ways to serve you even better when they return for Season 7 in the Fall.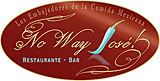 No Way José! is on the south side of downtown at 5 de Febrero 260, just over the Vallarta street bridge on your left heading south from the Malecón. Open daily from 4 pm to 11:00 pm, closed Mondays in April and May. Reservations are recommended and available by calling (322) 223-2853 or online via the NWJ! website. For more information, visit NoWayJoseMx.com, or follow them on Facebook for real-time updates and special offers.

Click HERE to learn more about No Way José!