Puerto Vallarta, Mexico - Another common questions people ask after they've purchased Puerto Vallarta real estate is "Now what do we do?" In this edition of 'Ask a Realtor,' Boardwalk Realty Agent John Swanson answers your questions.
Q. "Can you recommend some of the fun things to do around the bay? We are Baby Boomers and are not much on the party scene anymore." - Julia L., Stockton
A. Sure! From organized adventures to leisurely strolls, Puerto Vallarta is arguably the best town in Mexico for a wide variety of things to do. Here are some of the many activities visitors enjoy with some estimated prices. There are so many more I will make more suggestions in upcoming articles.
1. Whale Watching - be it from a tour boat or simply standing on your seaside home's balcony, it's hard to contain yourself when you see a breaching Humpback whale! I've seen many the macho man scream like a nine-year-old Justin Bieber fan at their first sighting and it never ceases to be a thrill! Humpbacks start arriving in November, many have babies in January and February and March are very active- Think of approximately $100/ person for the guided boats including light food and drinks. You will never forget the day.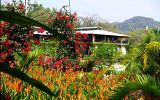 2. Botanical Gardens: One of my favorite places. The hiking is not tough and the multitudes of amazing tropical plants are often marked so you know what it is! I had no idea a small tree with red berries was coffee! Entrance is 80 pesos ($5 US) and the food is surprisingly great. (From Old Town PV) You can arrive by catching the bus to "El Tuito" at the corner of Carranza and Aguacate streets, in the Romantic Zone. This bus leaves every half hour or so. This bus will also return you to PV. Bus fare is 20 pesos (about 1.50 USD) each way.
3. Walk the Malecón on Sunday night: Our
famous seaside boardwalk, "The Malecón,"
is great anytime but Sundays are special. Families with dressed-up children, street performers and many fabulous cultural performers on the Los Arcos stage make this freebie tough to beat. It is the best people-watching ever and the fresh tamales, crepes, fresh mangos sold along the way are all very affordable. The best things in life are free and this is one of them.
4.
Home Tours by the International Friendship Club:
For 30 years the IFC has organized a home tour with the proceeds going to support wonderful charities. Leaving from the Sea Monkey restaurant on the Malecón on Tuesdays and Wednesdays during the high season, guests are transported to some of Vallarta's most amazing homes- lovingly opened by the owners as a way to "give back". The cost is $500 pesos (approx. $35 USD) but the day is wonderful and the feeling you get having helped the wonderful charities is priceless. If you've never done it, give it a go on your next vacation. You can have fun pretending you live in our finest homes. Wear an ascot and talk like Thurston Howell III! Our least fortunate appreciate the support.
Q: "We are curious how people get utilities and services like Internet once you own a home in Puerto Vallarta, as we don't speak Spanish. We start twitching if we don't have internet for a day hahaha!" - June C., Vancouver
A:
Long ago we realized that not speaking the local language could present a hurdle for potential owners when it comes to services. While most here in Vallarta speak English at the utility offices etc., we at Boardwalk developed something we call our "Concierge Service" for our clients. Rather than giving you a customary "Fruit Basket" when you open the door to your new place (and your new life!) we don't consider our job done until you have working TV, Internet, and utilities in your name. We can help get a bank account set up with local banks that allow you to pay bills on line. As you interview realtors it's wise to find out about their follow-up. A good one can get you up and running with the best services in town making for more days at the beach!

John Swanson is a real estate and lifestyle expert at Boardwalk Realty PV. He is a long-term resident, homeowner and has raised his family here. He is a contributing writer for Banderas News and as a hobby, performs locally in the Texas Embassy Blues Band. You can contact him at john(at)boardwalkrealtypv.com, or visit his website on living in Puerto Vallarta at pvlifestyles.com.

Click HERE to learn more about Boardwalk Realty PV.