Puerto Vallarta, Mexico - The temperatures are heating up and so is the kitchen at Daiquiri Dick's Restaurant in Puerto Vallarta, Mexico. The Summer Sizzle starts soon. Enjoy a three course meal for only $299 pesos and there are choices for each course, which includes a mouth watering appetizer, an irresistible entrée and a delectable dessert.
The Summer Sizzle menu will be changed every week and the special will run through the end of August. The weekly theme could be a country like Japan or Spain or a region like the Mediterranean or there could be a medley. It is time to take your taste buds on a world tour without ever leaving Puerto Vallarta.
The first leg of the journey begins in Asia and will run from Wednesday, June 3 through Monday, June 8, 2015 and dinner is served from 5 until 11 pm.
Asian life and food is all about balance. Asia is a huge continent with many different cultures and each has its own way of cooking and recipes. Executive Chef, Ignacio Uribe, Chef de Cuisine, Hugo Mejia and Sous Chef, Rogelio Garcia have developed a menu with a mix of many areas in Asia.
Appetizers
• Pork and Shrimp Siu Mai
• Coconut Soup with Lemongrass and Shrimp
• Thai spicy Calamari Salad with Shallots, Queen Basil and Mint
Entrées
• Grilled Pork Chops with Mongolian Glaze served with Mashed Potatoes, Braised Red Cabbage and Chinese Mustard Sauce
• Grilled Chicken with Teriyaki Glaze served with Gingered Braised Spinach and Steamed Japanese Rice
• Fresh Ahi Tuna Rolled in Sesame Seeds, served over braised gingered spinach and Spicy Sukiyaki Sauce
Desserts
• Fresh Young Coconut Crème Caramel
• Mango Rice Pudding
• Lychee Sorbet
The Summer Sizzle is not subject to any other discounts.
The special menu is a great way to sample cuisines from all over the world at a great price. Visit Daiquiri Dick's for an awesome sunset meal, right on the beach.
Open daily from 9 am to 11 pm, (Closed on Tuesdays from April to October) Daiquiri Dick's offers elegant dining in a relaxed atmosphere for breakfast, lunch or dinner. Visa, MasterCard and Banamex accepted. Reservations are recommended and can be made online at ddpv.com.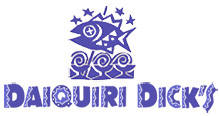 Daiquiri Dick's contemporary design exudes a quiet elegance that invites relaxation, and its tropical location at Olas Altas 314 on Los Muertos Beach offers the perfect atmosphere for enjoying spectacular views of Banderas Bay. For reservations call (322) 222-0566. For more information, visit DDPV.com.
Click HERE to read more about Daiquiri Dick's.