Puerto Vallarta, Mexico - It takes passion for the job, leadership and a positive attitude to be awarded a promotion in the tough restaurant industry. One local chef has recently been given a larger slice of the pie.
Management at Daiquiri Dick's Restaurant in Puerto Vallarta is proud to announce that Executive Chef Ignacio Uribe will also be the new General Manager.
"This is an easy way to maintain a great connection between the customers and the staff," says Ignacio, "I can greet clients, find out what they enjoy, what they do not like and I can make changes immediately and not get the information second hand." He knows this will be a challenge, but he welcomes the extra responsibility and believes this will make his job ultimately easier.
He has a long history with food and the first thing Ignacio remembers cooking is frog legs. He helped his mother in the kitchen frequently and, since his family grew most of their food, he became familiar with preparing items fresh from the garden.
Ignacio was born and raised in Puerto Vallarta and he began working as a cook in various restaurants. Daiquiri Dick's was remodeling, he wanted to check it out and saw they were hiring. He got the cooking job in 1991 and, through hard work and dedication, was eventually promoted to Executive Chef in 2005.
"I have always enjoyed cooking and eating," says Ignacio, "it is a wonderful experience to prepare a meal which I think is great, and then having that confirmed by clients." Asian food is his favorite to prepare and to eat, especially if he can incorporate locally caught seafood and fish.
Traveling adds experience to any palette and Ignacio has learned so much from his vacations to many parts of the world. He brings those flavors back to the restaurant and incorporates them into new dishes.
Ignacio has grasped his new position with a "what ever it takes" attitude and plans to add new dining experiences to Daiquiri Dick's. The restaurant's menu will continue to evolve and he will be at the heart of it. Always feel free to ask to meet and talk to the chef about your dining experience.
Daiquiri Dick's, An Exceptional Experience.
Open daily from 9 am to 11 pm, (Closed on Tuesdays from April to October and the month of September) Daiquiri Dick's offers elegant dining in a relaxed atmosphere for breakfast, lunch or dinner. Visa, MasterCard and Banamex accepted. Reservations are recommended and can be made online at ddpv.com.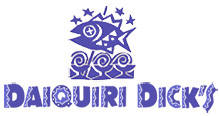 Daiquiri Dick's contemporary design exudes a quiet elegance that invites relaxation, and its tropical location at Olas Altas 314 on Los Muertos Beach offers the perfect atmosphere for enjoying spectacular views of Banderas Bay. For reservations call (322) 222-0566. For more information, visit DDPV.com.
Click HERE to read more about Daiquiri Dick's.