Puerto Vallarta, Mexico - Savor the flavors of the world, without ever leaving Puerto Vallarta! Daiquiri Dick's Summer Sizzle continues this week with mouth-watering Mediterranean meals from their special 3-course menu that features your choice of appetizer, entrée and dessert for only $299 pesos from June 24 to 29th.
The varied cuisines of the Mediterranean have developed over the millennia with all the cultures surrounding the Mediterranean Sea contributing. This area is at the point of intersection between Asia, Europe, and Africa. With major civilizations located in each area, the Mediterranean was geographically destined to become a major trading hub.
As societies meshed within the empire, culinary practices were adapted and conformed, resulting eventually in the adoption of the current culinary identifiers of Mediterranean cuisine by people throughout the region and the world.
This week's Summer Sizzle Menu is a colorful mix of Mediterranean flavors with your choice of one dish from each course for $299 pesos, or you can order your favorite appetizer, entrée or dessert on the special menu a la carte.
Executive Chef Ignacio Uribe, Chef de Cuisine Jugo Mejia and Sous Chef Rogelio Garcia have chosen some spectacular recipes, and they're serving them up from 5 to 11 pm.
Mouth Watering Mediterranean - June 24th through 29th
Select one item from each category. Not subject to any other discounts.
Appetizers
• French Onion Soup with Veal Stock, French Baguette Crouton and Gruyere
• Grilled Lamb Sausage with Cilantro Yogurt Sauce
• Butter Lettuce Salad with Blue Cheese, Green Beans and Caramelized Pecans and a Mustard Vinaigrette
Entrées
• Pan Seared Escolar Fish Fillet with Brown Butter Sauce and Lemon Infused Risotto
• Bone in Pork Chop marinated with Fennel and Spices served with Potato Purée and Harissa
• Linguine with Shrimp, Artichokes, Capers, Parsley and a White Wine Lemon Beurre Blanc Sauce
Desserts
• French Apple Tart
• Tiramisu Pot with Dark Rum
Enjoy the cool ocean breeze, a great sunset and a wonderful dinner at Daiquiri Dick's - where dining is always An Exceptional Experience
Note: The restaurant is closed on Tuesdays until the end of August, then closes for Summer vacation for the entire month of September.
Open daily from 9 am to 11 pm, Daiquiri Dick's offers elegant dining in a relaxed atmosphere for breakfast, lunch or dinner. Visa, MasterCard and Banamex accepted. Reservations are recommended and can be made online at ddpv.com.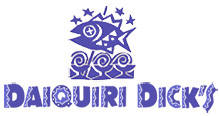 Daiquiri Dick's contemporary design exudes a quiet elegance that invites relaxation, and its tropical location at Olas Altas 314 on Los Muertos Beach offers the perfect atmosphere for enjoying spectacular views of Banderas Bay. For reservations call (322) 222-0566. For more information, visit DDPV.com.
Click HERE to read more about Daiquiri Dick's.