Puerto Vallarta, Mexico - The cuisine of Peru has a multi cultural history and is one of the world's best kept secrets. The dishes mix fabulous flavors and is considered one of the most varied and rich across the globe.
Recently there has been a revival of interest in native Peruvian foods and culinary techniques. Executive Chef Ignacio Uribe, Chef de Cuisine Jugo Mejia and Sous Chef Rogelio Garcia at Daiquiri Dick's Restaurant in Puerto Vallarta have created a special dinner menu that reflects the various flavors of Peruvian cuisine.
The special menu is part of the Summer Sizzle and is available from June 10-15, 2015. You get three courses for $299 pesos and choices for each course and dinner is served from 5 to 11 pm. Here's the menu:
Starters
• Beef Empanadas (2) with raisins and Kalamata Olives
• Shrimp Soup with Rice and Potatoes
• Peruvian Style Ceviche with Mahi Mahi, Sweet Potato, Corn and Habanero Chile
Entrées
• Steamed Amberjack Fillet served with a Tomato, Corn and Green Onion Sauce and Fried Sweet Potatoes
• Peruvian Style Chicken Adobado with a Jalapeño Sauce and Grilled Vegetables
• Peruvian Style Flank Steak with Tomatoes and Onions alongside Mashed Potatoes
Desserts
• Butter Cookie Sandwich with Butterscotch Filling
• Chocolate Truffles with Drunken Raisins
• Passion Fruit Flan
* This offer is not subject to any other discounts.
Peruvian cuisine also reflects local practices and ingredients, including influences from the indigenous population including the Inca. Immigrants from Spain, Italy, Germany, Asia and West Africa have made their impact, too. Without the familiar ingredients from their home countries, immigrants modified their traditional recipes by using ingredients available in Peru. This has made for a very interesting palate of flavors. Taste some of the best Peru has to offer during this week's Summer Sizzle at Daiquiri Dick's.
Open daily from 9 am to 11 pm, (Closed on Tuesdays from April to October) Daiquiri Dick's offers elegant dining in a relaxed atmosphere for breakfast, lunch or dinner. Visa, MasterCard and Banamex accepted. Reservations are recommended and can be made online at ddpv.com.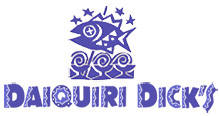 Daiquiri Dick's contemporary design exudes a quiet elegance that invites relaxation, and its tropical location at Olas Altas 314 on Los Muertos Beach offers the perfect atmosphere for enjoying spectacular views of Banderas Bay. For reservations call (322) 222-0566. For more information, visit DDPV.com.
Click HERE to read more about Daiquiri Dick's.