Puerto Vallarta, Mexico - After almost 7 years of building a following in La Zona Romantica, No Way José! owners Julie Guerrero and José Alfredo Gonzalez recently announced that they are putting their popular Puerto Vallarta restaurant up for sale, as they have separate, but equally exciting, new business ventures they want to develop here in PV.
José Alfredo will be launching 'No Way's Servicios Turisticos de Vallarta,' and Julie is forming 'JG Group,' a part of the global Keller Williams real estate organization. "Both José Alfredo and I are committed to working to make Vallarta a global destination and hope you will continue to support us in our new ventures," says Julie Guerrero, owner.
"We cannot be more grateful for the amazing 6 years of food, friends and fun we shared since we opened the doors of No Way José! in 2009," Julie adds. "We appreciate having been a part of Vallarta's story. Our hope remains that someone with passion will take this solid brand to the next level and embark on their own awesome adventure."
If you or anyone you know shares their passion of creating an overall dining experience for people in Puerto Vallarta and want to take this solid brand to the next level, please contact Julie and José Alfredo at info(at)nowayjosemx.com.
Not to worry, Tu Casa en Vallarta will continue to operate until that lucky person steps up to start their 'own awesome adventure.' Until then, Julie, José Alfredo and the entire No Way José! staff hope to see you soon in Tu Casa en Vallarta! They have already kicked off Season 7 downstairs in La Cantina, and the upstairs Terrace Restaurant opens October 15.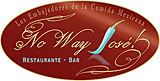 No Way José! is located on the south side of downtown at 5 de Febrero 260, just over the Vallarta street bridge on your left heading south from the Malecón. For more information, visit NoWayJoseMx.com, or join us on Facebook for real-time updates and special offers.

Click HERE to learn more about No Way José!