Puerto Vallarta, Jalisco, Mexico - Galerķa Contempo, one of Vallarta's favorite art galleries, is delighted to present two new artists - just in time for the "high season."
Showcasing contemporary artwork, paintings and bronze statues by well-known and selected up-and-coming Mexican artists, the gallery houses an impressive art collection on two levels, and this year they are adding two new artists to their select talent roster.
JUAN CARLOS BRECEDA
Applying rough brush strokes of contrasting colors, discarding depth or perspective, Breceda creates simple forms filled with energy. Born in Rosario, Sinaloa, Mexico in 1958; he studied art at the National School of Painting, Sculpture and Carving, "La Esmeralda," as well as the famous San Carlos Art School in Mexico City.
Women and animals are the central theme in his work. A woman's enormous eyes, steady gaze and harsh features, do not diminish her softness or sensuality. His animals? The rooster, the bird, and the elephant convey simplicity in a real and sometimes magical world. His works share an intensity in the color schemes, a thrust in the brush work, an energy bordering on fierceness and sternness.
JOHN ASHLEY-PRYCE
Born in England, Ashley-Pryce's studies and career spanning over four decades, were devoted entirely to architecture and commercial interior planing and design. His passion for buildings and detail are carried into his artwork.
A self-taught artist; his work is photo realistic and depicts details of overlooked urban scenes reflected in the walls of mirror that line city streets. Signs and posters all appear in reverse in the reflected views. He paints with a realistic approach to images of interiors and exteriors that draw our attention to usually unnoticed details.
Ashley-Pryce is fascinated with the city, it's visual complexity and constant state of flux. His urban landscapes attempt to capture a single moment in the ever changing vista and give vision to our experience of living within a city.
To learn more about these talented artists, please visit GaleriaContempo.com.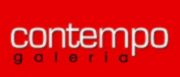 Open Monday through Friday from 10 am to 2 pm and 4 pm to 8 pm, and from 10 am to 2 pm on Saturday, Galeria Contempo is located at Basilio Badillo 252 at the corner of Ignacio Vallarta in the Romantic Zone of Puerto Vallarta. For more information, call (322) 223-1925, or visit GaleriaContempo.com.