Puerto Vallarta, Mexico - There's always so much going on in Puerto Vallarta and around the Republic, it can be difficult to keep up with it all. We've put together a brief overview of some of this week's Mexico headlines, plus Puerto Vallarta news and some of this weekend's events you won't want to miss.
Mexico to Adopt 911 Emergency Telephone Number
Mexico's Federal Telecommunications Institute (IFT) recently announced that the number for a new national emergency phone line will be 911. All existing emergency numbers will be required to migrate to it. Those include 060 for local police, 061 for state and Federal District judicial police, 065 for the Red Cross, 066 for the national system for citizen emergencies, 068 for fire emergencies and 080 for security and emergency calls. The new number, for both fixed line and mobile telephones, is to begin operating early next year. It will be managed by the executive secretariat of the National Public Security System, and telecommunications service providers will be required to provide free access to the new emergency number. Read more (in Spanish) at
eluniversal.com.mx.
Expats in Vallarta Special Event Dinner
ExPats in Vallarta, a totally social group with informal fellowship and assistance for Expat residents or visitors living, working or investing around Vallarta or considering it, recently announced that on Tuesday, Nov. 24th at 5:30 pm (sharp! No seating after 6 pm) they'll be having a Special Event Dinner at Los Muertos Brewing Company on Vallarta's South side, where $85 pesos per person includes all-you-can-eat pizza and 1 draft beer or 1 glass of wine or 1 well drink. Tax and tip included for pizza and first drink. Additional drinks and tips are separate. These Special Event Dinners normally fill up in a couple of days, and no tickets will be sold at the door, so email
sarajwise45(at)gmail.com
to make your reservation and arrange payment TODAY!
Carlos Slim Now Fifth Richest Person in the World
Carlos Slim, Mexico's wealthiest person, slipped in his world ranking this month. The telecom mogul's $56.6 billion net worth makes him the fifth richest person in the world, according to the Bloomberg Billionaire's ranking. It was another business leader with a Latino surname that knocked Slim out of his fourth spot. Jeff Bezos, the Amazon.com founder, rose up the rankings with a newly minted $56.7 billion net worth. A rise in Amazon.com's stock price was the reason for Bezo's move over Slim, who was the richest man in the world at one time, reported Bloomberg. Of course, one Latino out ranks both Slim and Bezos and his net worth rests right under Bill Gates'. Amancio Ortega, Europe's wealthiest man who runs the Zara clothing chain, ranks as the second richest person in the world worth around $72.7 billion. Read more at
MySanAntonio.com.
Matlali Merges With Sirenis Hotels & Resorts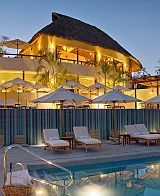 The Matlali Hotel in La Cruz de Huanacaxtle has announced its merger with the Sirenis Hotels & Resorts chain. From December 15, 2015 on forward it will be known as the Grand Sirenis Matlali Hills Resort & Spa Riviera Nayarit. Abel Matutes Barceló, VP and Sales Manager for Sirenis Corp., commented on his satisfaction at the integration of Matlali into their portfolio, which, among other things, opens the door for them in the Mexican Pacific. Matlali is a member of the exclusive Preferred Boutique hotels group. One of the biggest changes in their business plan will be the switch from the European Plan to an All Inclusive Plan. As for its cuisine, the current restaurant, Raixes, will offer an international menu with different themes, plus they will build three new restaurants with a Brazilian, Japanese and Italian menu, respectively. These will open in 2016. Early next year they will also debut 61 new Jungle Suite accommodations and a Kids Club. Learn more at
RivieraNayarit.com.
Weekend Events in Puerto Vallarta and Around Banderas Bay
Click on titles for more information
• South Side Shuffle Offers Fun and Friendly Shopping
• X Festival 'i Madonnari' Puerto Vallarta November 20-22
• Fifth Motomanía San Blas, November 19-22, 2015
• 'RisingHop 2015' Microbrew Festival in Puerto Vallarta