Puerto Vallarta, Mexico - French cooking isn't fancy or snobby. It's all about layering flavors, mastering basic techniques and savoring every bite. You have a chance to sample some of these delights during the Weekly Special Menu at Daiquiri Dick's Restaurant.
"French cuisine may have the reputation for being extremely sophisticated, but it's not rocket science," says Executive Chef Ignacio Uribe, "the team enjoys working with the French recipes and making them their own."
French food is ultimately about creating a harmonious dish that elevates the quality of the main ingredient and building the flavors around it. There's a lot of tradition involved in it and the results are extraordinary. Along with Ignacio, Sous Chef Hugo Mejia and Sous Chef Rogelio Garcia have created an excellent selection of dishes for the special.
The a la carte French dinner menu runs November 9 to 15, 2015 and is served 5 to 11 pm. Here's the line up:
Appetizers
• French Onion Soup with Veal Stock, French Baguette Crouton and Gruyere cheese
• Arugula Salad with Grilled Grapes, Almonds, Mushrooms, Celery, Cherry Tomato Vinaigrette
• Chicken Terrine served with Dijon Mustard and Pickled Red Onion
Entrées
• Grilled Mahi Mahi au Gratin served over Pernod Scented Pan Braised Spinach
• Steak au Poivre with Pomme Frittes, French Green Beans and Pistachio Sauce
• Coq Au Vin - Braised Chicken with Red Wine and Vegetables
Desserts
• Chocolate Mousse
• Berry Crepes with Ice Cream and Orange Sauce
The regular menu is also available and if you would like a particular table at a specific time, please make reservations 222-0566.
French dining is a style and a way of life. It is a leisurely meal and typically includes three courses and then dessert. The evening unfolds, it's relaxing and becomes about the pleasure of sitting down, enjoying family, friends, food and wine. Put your elbows on the table and let the meal flow.
Daiquiri Dick's - An Exceptional Experience
Open daily from 9 am to 11 pm, Daiquiri Dick's offers elegant dining in a relaxed atmosphere for breakfast, lunch or dinner. Visa, MasterCard and Banamex accepted. Reservations are recommended and can be made online at ddpv.com.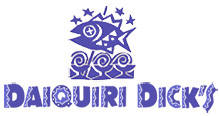 Daiquiri Dick's contemporary design exudes a quiet elegance that invites relaxation, and its tropical location at Olas Altas 314 on Los Muertos Beach offers the perfect atmosphere for enjoying spectacular views of Banderas Bay. For reservations call (322) 222-0566. For more information, visit DDPV.com.
Click HERE to read more about Daiquiri Dick's.