Puerto Vallarta, Mexico - South American cuisine combines many different flavors. Argentinian meals are highly influenced by Europe. Most of the food is generally a variation of Mediterranean cooking with a large emphasis on the products that are easily raised or grown in the area, namely beef and wheat.
The Spanish and Italians made a big impact on the food of Argentina.
Some of the world's best beef comes from Argentina. The country is famous for its grass fed cattle and the gauchos who work the open range raising these animals. The meat is normally eaten with very little seasoning, using only salt to bring out the flavor. All parts of the cow are eaten, nothing goes to waste. The most traditional way to eat meat in Argentina is the asado, or barbecue.
Executive Chef Ignacio Uribe, Sous Chef Hugo Mejia and Sous Chef Rogelio Garcia have developed a menu reflecting the many flavors of Argentinian food. This special a la carte dinner menu is served from 5 to 11 pm November 3 to 8, 2015.
Starters
• Quinoa, Chickpea and Baby Spinach Salad with Paprika Dressing
• Potato and Fresh Fennel Soup with Crispy Bacon and Chives
• Eggplant Rolls with Mozzarella and Prosciutto with Tomato sauce
Entrιes
• Rib Eye Steak with Argentinian Churrasco served over Roasted New Potatoes and Grilled Asparagus
• Argentinian Grilled Chicken Marinated with Saffron, Lemon and EVOO, served with grilled Eggplant, Zucchini and Arugula
• Grilled Tuna in Chimichurri Marinade served with Pan Finished Lentils
Desserts
• Alfajores - Vanilla and Lemon Cookie Sandwich
• Latin Caramel Custard
What a great way to sample the food of Argentina. Every week the special weekly menu changes and features a different country, region or the chef's favorites. Reservations are recommended if you want a particular table at a specific time, 222-0566.
Daiquiri Dick's, an Exceptional Experience.
Open daily from 9 am to 11 pm, Daiquiri Dick's offers elegant dining in a relaxed atmosphere for breakfast, lunch or dinner. Visa, MasterCard and Banamex accepted. Reservations are recommended and can be made online at ddpv.com.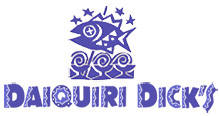 Daiquiri Dick's contemporary design exudes a quiet elegance that invites relaxation, and its tropical location at Olas Altas 314 on Los Muertos Beach offers the perfect atmosphere for enjoying spectacular views of Banderas Bay. For reservations call (322) 222-0566. For more information, visit DDPV.com.
Click HERE to read more about Daiquiri Dick's.