Puerto Vallarta, Mexico - Almost everyone has heard the saying "It takes a village to raise a child." Yet few people within the great tourism gem of Puerto Vallarta know of the efforts of "One man trying to raise a small village or 'Colonia' out of poverty."
Upon arriving in Puerto Vallarta six years ago, retired Catholic priest Father Éloi Arsenault was taken by the beauty, faith and courage of even the poorest of the poor communities with this huge city. Colonia Volcanes is the furthest such away in distance and means from the hotels, resorts, condominiums and golden sunshine beaches along the city's Pacific seashore. As far away and as high as water and services can be reached inexpensively at the foot of the mountains.
In those early visits Father Éloi saw first hand how Colonia Volcanes was attempting to improve their children's education and health. To save their children from continuing poverty, parents and teachers began working with the Volcanes Community Education Program to get English Language Classes and computer training for Primary School students. But funding was needed to pay for after-school classroom teachers.
Father Éloi was born in the tiny Evangeline Region village of Saint Chrysostome, Prince Edward Island along the Eastern coats of Canada. His Acadian ancestors from France had been the first settlers in North America arriving in Atlantic Canada before subsequent colonies in Québec and Jamestown and the Mayflower in America. During Father Éloi's youth, his little French language community had been one of poorest in the province. It was the level of poverty in Volcanes which tugged at his heart strings and reminded him of his own youth and the poverty he had seen and experienced growing up. Like his own community, he saw the parents of these promising Volcanes children push for change and a chance for their sons and daughters.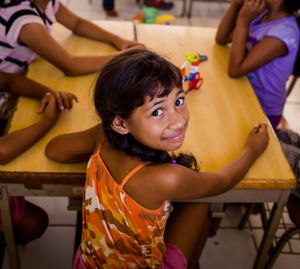 Father Éloi dedicated his youth and later on chose a path as Catholic Priest to try to help his own community. Since becoming a priest almost five decades ago, he has worked tirelessly to advance the rights and causes of the poor in his province as well as Acadian and First Nation's groups. This has resulted in new and better schools, roads and services to many poor and long neglected communities. He has also worked tirelessly to make his ministry as all inclusive and loving as possible. Several years before his retirement, Father Éloi was recognized in 2004 with the highest civilian honor of his native province for his many years of work, the Order of PEI.
But even in retirement, Father Éloi continues to try to help. Over the past five years, he has spoken of Volcanes to members of his community along the Evangeline Coast of PEI as well as friends and businesses as far and wide as Summerside and Charlottetown. The outpouring of donations has helped put the struggling VCEP on a firm footing and has made it a showplace where local government and education officials go to see real and positive change from within and with the support of the community.
The donation amounts raised each year continue to astound. The increased amounts allowed the hiring of 4 full time teachers to replace the 8 part-time and volunteers who taught the English and Computer courses. The program has blossomed with the newly built library and computer equipped study room with Wi-Fi. In many areas of the city, parents see their children forced onto dark and dangerous streets with nowhere safe to go.
In Volcanes, the brightly lit VCEP school building and its Library is a beacon of safety for the parents and students. The Library and study areas are monitored by parents every night and the free Wi-Fi allows the young and old of the community to tap into the free signal on their phones or see the wonders of the world on one of the many available laptops. Grade 7 to 12 students are no longer at a disadvantage of students from wealthier parents with computers at home and can also hand in their assignments using Word or Excel.
Even during the week-ends, Father Éloi continues to work alongside other volunteers serving pizza at Café Roma's Saturday Pizza Party for the children of the Volcanes School. For many boys and girls, it is a chance to see life outside their own Colonia as the cost of their families traveling by bus to and from the beach is often more than several days' wages. It's just too expensive for families to travel outside Volcanes. In some instance, children who have grown up in Puerto Vallarta have never even been to the beach although they can clearly see the far away towers and blue waters of Banderas Bay.
For 2015, Father Éloi raised slightly over C$29,000 for the VCEP Teacher's Fund bringing his fund raising, for the last 5 years, to a total of $95,300.00 for this little school. Although in average income, Colonia Volcanes is one of the poorest areas of Puerto Vallarta, due to people such as Father Éloi it has become one of the safest and most hopeful. They see changes in the eyes of their children who; even though they are tired after a full day at school, return after school for even more classroom time. They go because of the quality of the teachers and the feeling of hope which prevails throughout the community.
Many thanks to Father Éloi and the people of the Evangeline area as well as from Summerside and Charlottetown in far away Prince Edward Island Canada for their many years of generosity. It's been helping raise and entire Colonia out of poverty.
For more information on work being done in Volcanes by the VCEP, contact Art Fumerton of the
Club Rotario Puerto Vallarta Sur
on his cellular at 322-158-8815, or visit the
Volcanes Project website
or
Facebook page.