Please Note: Due to last Saturday's rains, this year's golf tournament will be held on Sunday, December 20, 2015.
Puerto Vallarta, Mexico - For the 17th consecutive year, the Navy League in partnership with the Marriott CasaMagna Resort, the Vista Vallarta Golf Club, Patron Tequila and many other sponsors will be raising money to buy thousands of toys for distribution to needy kids this holiday season.
Playgrounds will also be constructed as needed in these poor neighborhoods. Last year, Toys for Tots distributed 9,000 toys and built 2 playgrounds. Over the past 16 years the number of toys, and smiles, spread throughout the two-state region is more than 120,000, plus 10 new playgrounds.
This year's major fundraisers will be held the weekend of December 12-13. On Saturday, December 12, a fun-filled golf scramble tournament will be held at the Vista Vallarta Golf Club Weiskopf course. A shotgun start will be at 11:00 am, followed by a complimentary luncheon and awards ceremony immediately after completion of golf. This is a fun and popular charity event, with many prizes for golfers of all skill levels. Don't miss it, even if you barely know how to pick up a club. The cost per person of 1500 ps ($100 US) is well below market price, thanks to the generosity of the Vista Golf Club, who pick up the tab for the entire day. So every peso raised goes directly to buying toys.
On Sunday, December 13, a gala holiday Dinner/Dance will be celebrated at the Marriott CasaMagna Resort in Marina Vallarta. Doors open at 6:30 pm with complimentary cocktails, accompanied by Mariachis, and a robust raffle. A gourmet dinner will be served at 7:15, prepared by Marriott's award-winning chef. Wine and other drinks will be complimentary the entire evening. There will be a talented live band for those wanting to work off the evening's calories. Finally, you won't want to miss a live auction of some very exciting items you won't find anywhere else. All of this for the bargain price of $1200 Mexican Pesos ($80 USD) per person, again due to the generosity of the Marriott, who provides free of charge the evening's venue, dinner and beverages. Patron Tequila and other sponsors will light up the live auction! A great way to kick-off the holiday season.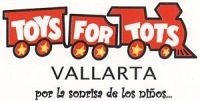 Tickets for individuals and groups can be found at the Marriott Concierge desk, at the Marina and Vista golf shops, or you can contact any Navy League member including Jerry Lafferty at 221-6156 or
laffja(at)aol.com,
Dorothy Piontkowski at 209-0064 or
pvdcp(at)yahoo.com,
or Jon Murphy at 044-322-206-5165 or
jmurphy11(at)gmail.com.
A discount of 10% is provided to anyone purchasing a complete table of 10 for the dinner dance. Let's make this year's holidays a great treat not only for ourselves but the less fortunate kids all around us. Anyone also wanting to accompany the distribution caravans on Three Kings Day is more than welcome to join what is a heart warming and adventuresome day.