Puerto Vallarta, Mexico - The award-winning musical group, Luna Rumba, will make a special appearance at the Old Town Farmers Market-Tianguis Cultural on January 9th to offer a sneak preview of their new CD, Luna Rumba Live!
Following the success of their first, self-titled CD, which won three international awards, Luna Rumba is celebrating the release of their second CD: "Luna Rumba LIVE!" It is a collection of original and cover songs, and the most requested songs from last season's live performances. Songs include "Cucurucucu Paloma," "Stay in Vallarta," "Besame Mucho" (special version), the romping "Shambo!" and more!
Fans continue to rave:
The absolute best show in Vallarta - Bobbie Schmidt Audell
Totally awesome band. Loved every performance - John Ragan
They are truly gifted musicians that have a passion for their music - T. Rinehart Grunzke
Luna Rumba is an international favorite, presenting a "sonic tapestry of Latin fusion, Gypsy Flamenco, Arabic melodies, Cuban rhythms, Celtic riffs and Latin jazz." The band won the Best Latin CD by Independent Music Awards, earned honorable mention in the USA International song writing contest, and was named Vallarta Lifestyles' Best CD 2015. Luna Rumba was also a finalist in the world music category of the John Lennon International song writing competition.
OTFM-TC Performance on January 9
Luna Rumba's OTFM-TC performance will be on Saturday, January 9th beginning at 11:30 am on the main stage at the west end of Lazaro Cárdenas Park - next to the international food court. Shaded seating will be provided. Be sure to check out the promotion table for your copy of the original CD and CD release party tickets.
CD Release Party on January 22
The Luna Rumba CD release party will be held at The Palm on Friday, January 22nd and will feature two performances: the first, a concert program; the second, a special VIP performance of songs from the new CD followed by a dance party. Seating for the second show will be limited.
The new CD cover features the talents of local artist, Francine Peters. Peter's colorful street scene portrays The Palm, a location in which Luna Rumba recorded some of their Luna Rumba LIVE! hits. Be sure to pick up a copy for you and a friend. It will make a great collector's item!
You can get your tickets at the OTFM-TC performance or anytime at The Palm and Vallarta Tickets.
About the OTFM-TC
The Old Town Farmers Market-Tianguis Cultural is a North American style market that celebrates the tradition and culture of Mexico's outdoor tianguis markets. It is also a registered non-profit/association civil organization that focuses on nurturing the entrepreneurial spirit of Puerto Vallartans. All OTFM-TC products are either locally grown or handmade within 75 kilometers of the city. The market is open 9:30 am - 2 pm every Saturday through April 30, 2016, at Lazaro Cárdenas Park in Vallarta's Emiliano Zapata neighborhood.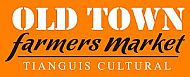 For market updates, please visit OldTownFM.com, and "like" us on Facebook.

Click HERE to learn more about the Puerto Vallarta Old Town Farmers' Market.