Puerto Vallarta, Jalisco, Mexico - Three years ago, longtime colleagues and friends Michael Green and John Swanson decided to take their more than 30 combined years of real estate experience, here in Puerto Vallarta and in the U.S., and open their own company, Boardwalk Realty.
Since then the company has grown beyond their expectations. Sales projections are constantly being exceeded so much so that last quarter they were the #2 sales agency in the Bay (all with a very lean and effective team). "The secret to our success is a great team that works well together, innovative new marketing techniques, and first class customer service during and after the sale," states Broker John Swanson.
So with this success, and a market that last year started a great rebound and this year is already promising to be better than last, the time to open a new office and hire new team members was NOW.
Wanting to be sure this was a great move for their clients they researched very carefully to find the best location possible, and they did. Their new office is located across from Starbucks at the South end of the Malecon, just past the town square. "This location will serve our current and new listings well with the amount of foot traffic and is a very convenient place for buyers to start their search," comments Broker Mike Green.
The new office will be managed by Warren Brander with a full sales and client support team. Pedro Rodrigues and Rocio Nava, both great senior sales agents, will also be on site. An effective and seasoned client sales and service specialists team, consisting of Lupita Montano and Nancy Zetter, will support Warren, Pedro and Rocio. Expect to see this office quickly grow!
The grand opening of the new office will be on January 8th. Drop by and meet the team and see the new office from 10 am - 2 pm and enjoy a Starbucks coffee, pastries, a special guest and balloons for the kids. The Boardwalk Realty Team looks forward to seeing you there!
Boardwalk Realty Puerto Vallarta now has two offices to better serve you. The New Location is on the south end of the Malecón, across from Starbucks and the town square at Morelos 293, Col. Centro, Phone: (322) 223-0001; and the original location is at Blvd. Fco. Medina Ascencio 2216-A, next to LANS department store in the North Hotel Zone, Phone: (322) 224-0014.
---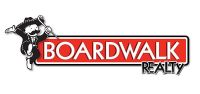 Puerto Vallarta is a paradise, where history and natural beauty is met with all of the comforts of home, and you can live the life you always dreamed of while making a strong investment in the future. Boardwalk Realty, a boutique real estate agency, goes beyond buying and selling homes. From immigration to health care, they can teach you how to live and own in Puerto Vallarta on any budget, and help you turn life into a perfect Puerto Vallarta lifestyle. For more information,
click HERE
or visit
BoardwalkRealtyPV.com