Puerto Vallarta, Mexico - Galeria Contempo cordially invites you to meet and greet artist Meg Munro at her opening reception on Friday the 19th of February from 6 pm to 10 pm. Expect to be dazzled by the bold, heartfelt authenticity of master watercolorist Meg Munro's latest works, to be revealed at her upcoming show.
Of course nature's infinite shifting shapes and plays of light shine through these new pieces in astounding precision as they have in all her paintings, because for this award-winning artist, "it is not the subject, it's the patterns and the light."
"Yet this time my story is more personal as I incorporate images from my evolving truth, my work braver than before. I see things in a deeper, more committed way. Looking at the small pond at the Vallarta Botanical Gardens, for example, I know I could have a lifetime of work right there," the artist says.
Meg's florals are so evocative, detailed with such extraordinary sensitivity, that fresh fragrances seemingly emanate from her canvases, each as distinctive as the artist herself. A favorite with international collectors since 1995, she has called Puerto Vallarta home for 30 years.
It was while perusing a booklet about the Virgin de Guadalupe - patron saint of both Mexico and Puerto Vallarta - that she was struck by how deeply the picture of another feminine Mexican saint resonated with her, triggering a spiritual impulse demanding expression.
"In all my work is the spark of the new work, which is now more polished, meaningful and constantly evolving. With a non-Catholic upbringing, painting religion icons into my work is truly an opening of my filters. Now, in my studies and my meditation I see her, so on a personal level it's like a healing for me. I can feel the spark of divinity in and behind an image with a more inclusive judgment of what I think divinity is. Striving for wholeness, I am putting myself out there in my work, heart and soul," Munro says.
Her collectors would say she always has.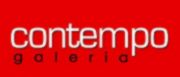 Open Monday through Friday from 10 am to 2 pm and 4 pm to 8 pm, and from 10 am to 2 pm on Saturday, Galeria Contempo is located at Basilio Badillo 252 at the corner of Ignacio Vallarta in the Romantic Zone of Puerto Vallarta. For more information, call (322) 223-1925 or visit GaleriaContempo.com.