Puerto Vallarta, Mexico - Often the first thing you'll sample at Daiquiri Dick's is a cocktail, glass of wine or other beverage. Bartender Ezequíel Ramos will probably be making it for you. He's been working at the restaurant as a full-time bartender since 1994.
Ezequíel likes the hustle and his space behind the bar. The busier he is the more enjoyable the work day. "Last year we added a lot of new drinks including dessert martinis, sangrias and a complete specialty cocktail menu," says Ezequíel, "It was a challenge developing and refining the recipes but we had a great deal of fun, too."
A friend of his worked at Daiquiri Dick's in the early 90s. When Ezequíel was laid off of work as a bartender at the Mayan Palace during the summer, his friend recommended working at Daiquiri Dick's and he has been serving up cool beverages ever since.
"I have the best view in town," says Ezequíel, "There are not many jobs where you work right on the beach with a great view and a nice breeze." He says he likes the owners and the staff and says if work in not fun, there's no reason to work there.
Check out Daiquiri Dick's new specialty cocktails HERE. Ezequíel can be found mixing and shaking mornings and evenings because he works the swing shift.
Open daily from 9 am to 11 pm, Daiquiri Dick's offers elegant dining in a relaxed atmosphere for breakfast, lunch or dinner. Visa, MasterCard and Banamex accepted. Reservations are recommended and can be made online at ddpv.com.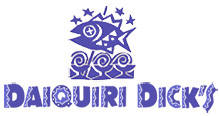 Daiquiri Dick's contemporary design exudes a quiet elegance that invites relaxation, and its tropical location at Olas Altas 314 on Los Muertos Beach offers the perfect atmosphere for enjoying spectacular views of Banderas Bay. For reservations call (322) 222-0566. For more information, visit DDPV.com.
Click HERE to read more about Daiquiri Dick's.