Puerto Vallarta, Mexico - Do you have your Easter bonnet ready? If not, you'd better HOP TO IT! Casa Cupula brings an old tradition to Puerto Vallarta with their Third Annual Easter Bonnet Party and Brunch, scheduled to take place at Taste Restaurant on Sunday, March 27, 2016 from 10:00 am to 4:00 pm.
To celebrate the occasion, Taste @ Casa Cupula is serving up a Special Easter Brunch until 4:00 pm that features all you can eat goodies plus 1 Mimosa or 1 Bloody Mary for only $279 pesos. Come wearing a bonnet and enjoy a $100 pesos discount!
Men, women, straight, gay and everything in between are welcome! Come out and join us for an unforgettable Easter celebration. The $50 peso admission price will be donated to the Amapas Neighborhood Association.
The contest will be hosted by Puerto Vallarta's very own Juan Pablo Hernandez. Easter bonnets will be judged by PV celebrity judges, Chi Chi Rones and Jo Anna who will choose winners in the following categories:
• Most original
• Most fabulous
• Best theme
There will be fabulous prizes for the winner of each category. Of course, one might choose to compete in all three categories, most fabulous, most original and best theme with just one hat.
Some say that size matters, but a good theme can easily win the hearts and minds of Bonnet lovers. For example, one can stick with a traditional Bunny theme. Other Easter themes might include eggs, or chicks, or even a religious theme.
A simple floral Bonnet is always in style, and easy to prepare. Just get fresh flowers, a lovely hat, and a glue gun and you're set to go. And nothing can help cure that Semana Santa hangover like the smell of fresh flowers on Easter afternoon.
Judging starts at 1 pm. Get on it! Make your Bonnets!
Please visit Taste's Facebook Page for ongoing Event information. To book your table or RSVP for the contest, please contact your Casa Cupula Concierge at 322-223-2484 ext. 151 or by email at taste(at)casacupula.com.
---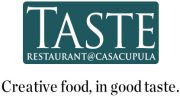 Open Wednesday through Saturday from 8:30 am to 5:00 pm for Breakfast and Lunch, and from 6 to 11 pm for Dinner, and on Sundays from 10 am to 3 pm, Taste at Casa Cupula is located at Callejon de la Igualdad #129 on the southern shores of Puerto Vallarta, Mexico. For more information, visit Taste.com.mx. For reservations, click HERE, call (322) 223-2484 ext. 151 or email taste(at)casacupula.com.

Click HERE to learn more about Taste.