Puerto Vallarta - Australia was, from 1788 to 1900, a collection of British colonies in which culinary tastes were strongly influenced by British and Irish traditions - and agricultural products such as beef, sheep and wheat became staples in the Australian diet. Post-war Australia's multicultural immigration program lead to a diversification of the cuisine of Australia, particularly under the influence of Mediterranean and East Asian migrants.
And now you can send your taste buds to Australia... without leaving Puerto Vallarta! No need to pack your bags, just head on over to Daiquiri Dick's Restaurant on Los Muertos Beach, where this week's special menu features Australian cuisine through March 20, 2016. This is an a la carte menu, and dinner is served from 5:00 to 11:00 pm.
Daiquiri Dick's 'Flavors of Australia' Menu
Appetizers
• Squid Salad with house-made chorizo, garbanzos, fresh parsley
• Australian Meat Pie with bacon, onions and gravy
• Warm New Potato Salad with spinach, watercress, crispy bacon, blue cheese and a red wine mustard vinaigrette
Wine suggestion: Aromo Chardonnay
Main Courses
• Char Grilled Flank steak with feta-roasted sweet potato, grilled green beans, and topped with a shallot and fresh herb sauce
• Miso-Grilled Salmon with Soba Noodles and miso ginger dressing
• Seared Duck Breast with Shitaki Mushroom Risotto with miso and gochuchang sauce
Wine suggestion: Anakena Pinot Noir
Desserts
• Lamington Cake with Chocolate and Coconut
• Fig-Balsamic Pavlova
Daiquiri Dick's is well known for its wide variety of cuisine, and this weekly special menu only emphasizes that.
During the winter season reservations are recommended, 222-0566. Just a note about Daiquiri Dick's reservation policy: Reservations are held for a maximum of 15 minutes. They do not guarantee particular tables, although they make every effort to accommodate requests. This policy is in place to ensure the integrity of all reservations.
Daiquiri Dick's, An Exceptional Experience.
Open daily from 9 am to 11 pm, Daiquiri Dick's offers elegant dining in a relaxed atmosphere for breakfast, lunch or dinner. Visa, MasterCard and Banamex accepted. Reservations are recommended and can be made online at ddpv.com.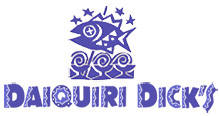 Daiquiri Dick's contemporary design exudes a quiet elegance that invites relaxation, and its tropical location at Olas Altas 314 on Los Muertos Beach offers the perfect atmosphere for enjoying spectacular views of Banderas Bay. For reservations call (322) 222-0566. For more information, visit DDPV.com.
Click HERE to read more about Daiquiri Dick's.