Puerto Vallarta, Mexico - It hits your tongue like a swarm of bees blasting your unsuspecting taste buds. Thai cuisine excites every area of your mouth. There's a mix of sweet, salty, sour, and spicy hot in every meal. It will leave your tongue stunned. Maybe this is why Thai food is internationally famous.
Thai cuisine is essentially a marriage of centuries-old Eastern and Western influences harmoniously combined. Originally, Thai cooking reflected the characteristics of a waterborne lifestyle. Aquatic animals, plants and herbs were major ingredients. With their Buddhist background, Thais shunned the use of large animals in big chunks. Big cuts of meat were shredded and laced with herbs and spices. Traditional Thai cooking methods were stewing and baking, or grilling.
Chinese influences saw the introduction of frying, stir frying and deep-frying. Culinary influences from the 17th century onwards included Portuguese, Dutch, French and Japanese. Chiles were introduced to Thai cooking during the late 1600s by Portuguese missionaries who had acquired a taste for them while serving in South America.
You can sample a wonderful array of Thai foods during the Weekly Special Menu at Daiquiri Dick's Restaurant March 21 to 25, 2016. Executive Chef Ignacio Uribe, Chef de Cuisine Hugo Mejia and Sous Chef Rogelio Garcia have chosen some spectacular recipes and dinner is served from 5 to 11 pm.
Appetizers
• Siu Mai with Pork and Shrimp, gingered soy sauce
• Thai Spicy Calamari Salad with shallots, queen basil and mint
• Mushroom Chicken Noodle Soup
Main Courses
• Pad Thai Noodles with Shrimp, dried shrimp, peanuts, tamarind sauce and eggs
• Thai Style Barbecued Chicken with Steamed Rice
• Grilled Fresh Sea Bass with Miso~Gochujang Glaze served on a bed of steamed rice, napa cabbage, carrots and green beans
Desserts
• Coconut Crémè Brûlée
• Thai Fried Bananas with Ice Cream
During the spring season reservations are recommended, 222-0566. Just a note about our reservation policy: Reservations are held for a maximum of 15 minutes. They do not guarantee particular tables, although they make every effort to accommodate requests. This policy is in place to ensure the integrity of all reservations.
Daiquiri Dick's, An Exceptional Experience.
Open daily from 9 am to 11 pm, Daiquiri Dick's offers elegant dining in a relaxed atmosphere for breakfast, lunch or dinner. Visa, MasterCard and Banamex accepted. Reservations are recommended and can be made online at ddpv.com.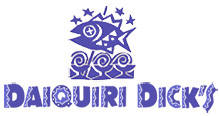 Daiquiri Dick's contemporary design exudes a quiet elegance that invites relaxation, and its tropical location at Olas Altas 314 on Los Muertos Beach offers the perfect atmosphere for enjoying spectacular views of Banderas Bay. For reservations call (322) 222-0566. For more information, visit DDPV.com.
Click HERE to read more about Daiquiri Dick's.