Puerto Vallarta, Mexico - Now that all the Purr Project fund raisers are done for the season, we want to take a minute to thank everyone who attended our garage sale, fashion show, mystical cocktail party, trunk shows, ranch tours, spay/neuter clinics, BINGO games too numerous to mention — and all those brave souls who risked drowning at our annual luau on the beach!
Your attendance at our events ensures that the 150 gatos and gatitos at the Purr ranch will have food, shelter, medical attention and needed medications throughout the long summer months.
We are so grateful to Tari Bowman at Daiquiri Dick's, Troy Valens at Sea Monkey, Enrique Soriano at Margarita Grill, Andrea Marquez and Hector Lomeli at Sucesos Boutique, and Tracy Parks at The Palm for allowing us to invade your space and hold fund-raisers at your establishments. You and your people are all absolute joys to work with.
A huge Muchas Gracias! to all the local vendors and individuals who donated prizes — gift certificates, artwork, massages, show tickets, art gallery gift cards, kitty bags and aprons, jewelry, bakery goods, yoga classes — far too many to mention. We receive many favorable comments about our prizes, and your generosity is what makes them possible.
And to our incredible volunteers — we simply could not do this without your hard work, dedication, patience, good humor, and the all-too-frequent dips into your wallets. You are just The Best.
The Purr Posse is taking some time off to catch our breath, regroup and plan more fund raising fun for next season. Wherever you are in the world, have a great Summer – we look forward to seeing you in the Fall!
Marilyn Khan - Purr Project
---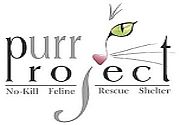 PuRR Project is a Non-Profit shelter in Puerto Vallarta, Mexico that provides homeless cats and kittens a recuperative stay with the ultimate goal to adopt them out to loving homes. All of our residents have been sterilized, vaccinated and are disease free. We accomplish this through our own efforts as well as collaboratively with other animal welfare organizations. Both monetary donations as well as donations of dry cat food are most welcome – and much appreciated. For more information, visit PuRRProject.com or send an email to info(at)PurrProject.com.