Puerto Vallarta, Jalisco, Mexico - Some would say the most important person in a restaurant is the one handling the money and credit cards. This is where collective tips are deposited and final tallies are made. Angela Peņa has been counting pesos at Daiquiri Dick's Restaurant since 2000.
"The job is never boring," says Angela, "there's a wonderful view, great music, which is live sometimes, returning clients that are always friendly and the staff is fun."
Before working at Daiquiri Dick's she worked as a sales associate at the exclusive boutique, Sucesos, but a friend recommend that she try working as a cashier at the restaurant.
Angela thought that sounded more stable than a job that depended on commissions and she has been taking care of business at Daiquiri Dick's ever since.
Open daily from 9 am to 11 pm, Daiquiri Dick's offers elegant dining in a relaxed atmosphere for breakfast, lunch or dinner. Visa, MasterCard and Banamex accepted. Reservations are recommended and can be made online at ddpv.com.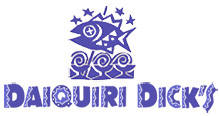 Daiquiri Dick's contemporary design exudes a quiet elegance that invites relaxation, and its tropical location at Olas Altas 314 on Los Muertos Beach offers the perfect atmosphere for enjoying spectacular views of Banderas Bay. For reservations call (322) 222-0566. For more information, visit DDPV.com.
Click HERE to read more about Daiquiri Dick's.