Puerto Vallarta, Mexico - Spanish cuisine represents a wide variety of dishes, which stem from differences in geography, culture and climate. With its proximity to the ocean, it is heavily influenced by seafood.
The Spanish terrain offers up an abundance of fresh products. The famous hams are cured high in the mountains, vineyards and olive groves sprawl over the landscape and fresh fruits and vegetable come from all parts of the country.
Endless cultures, as they passed through or settled in Spain, have influenced the history of Spanish cuisine. The Phoenicians left their sauces, the Greeks introduced the wonders of olive oil, and Romans, Carthaginians, and Jews integrated elements of their own cooking into Spanish menus.
The Moors, during their centuries of reign, influenced the cuisine the most. They introduced fruits, light seasonings and nuts used with meats and fish, along with the staple, rice. The brought in saffron, cinnamon, and nutmeg.
The foods we consider to be "typically Spanish" would either not exist or would be extremely different without the intervention of so many cultures into the history of Spain and Spanish cuisine.
Sample the Flavors of Spain on the Weekly Special Menu at Daiquiri Dick's Restaurant. This special a la carte dinner menu is being served through April 17 from 5 to 11 pm. Executive Chef Ignacio Uribe, Chef de Cuisine Hugo Mejia and Sous Chef Rogelio Garcia have come up with some of the best recipes representing the different areas of Spain.
Daiquiri Dick's Flavors of Spain Menu
Appetizers
• Salmorejo Tomato Soup, Spanish style, with egg and serrano ham
• Spanish Tortilla with potatoes, olive oil and egg
• Prosciutto wrapped Asparagus with almond and ancho chile romesco
Main Courses
• Butter Poached Escolar with Demi Glace and mushroom risotto
• Catalán Style Paella served with octopus, shrimp, calamari, crab and scallops
• Linguine with Shrimp, Artichokes, Capers, Parsley & white wine lemon beurre blanc sauce
Desserts
• Crema Catalana
• Pestiños (Sweet Spanish Fritters)
Enjoy all these unique flavors plus the regular a la carte menu, which is also available, at Daiquiri Dick's, where every meal is An Exceptional Experience.
Open daily from 9 am to 11 pm, Daiquiri Dick's offers elegant dining in a relaxed atmosphere for breakfast, lunch or dinner. Visa, MasterCard and Banamex accepted. Reservations are recommended and can be made online at ddpv.com.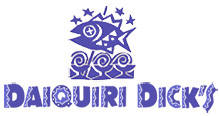 Daiquiri Dick's contemporary design exudes a quiet elegance that invites relaxation, and its tropical location at Olas Altas 314 on Los Muertos Beach offers the perfect atmosphere for enjoying spectacular views of Banderas Bay. For reservations call (322) 222-0566. For more information, visit DDPV.com.
Click HERE to read more about Daiquiri Dick's.